0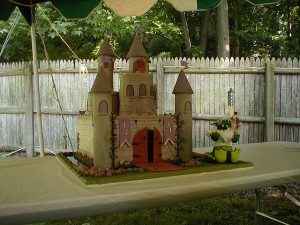 Hear ye! Hear ye! Cometh and viewth this spactacular cake that I am bringing you forth with! Or something like that.
This castle cake comes complete with five towers, draw bridge, moat and your very own dragon! If you take a closer look you can actually see that the dragon has captured himself a bride & is about to scoot off to start his new life as Bride & Dragon. One can only wonder how the groom feels about being represented as a dragon..hmm. The sheer size of this cake impresses me! I can't imagine the time the baker had getting it to the wedding site. The castle exterior is gorgeous from the stones to the flags on top of the towers this cake is crafted perfectly. I would have a hard time cutting into this cake.
Come to think of it..this cake could have easily fit into one of my favorite episodes of my favorite television show. Liz and T.J.'s Renaissance wedding on The Gilmore Girls. Don't you think?
Huzzah!
Other Posts You May Enjoy:
Read More:
castle cakes
,
castle wedding cake
,
dragon cake topper
,
renaissance themed wedding
,
renaissance wedding cakes