2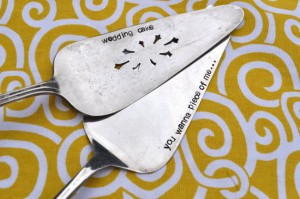 I adore when I find new Etsy shops.  I told the husband a few weeks ago that I have an Etsy and thrift store obsession.  He told me he preferred the latter because it's much cheaper until I came home with a huge plate that said "Kansas" and had a bunch of different pictures of Kansas on it.  I have never been to Kansas but it was only one dollar.  He told me it was a good thing I found a husband while I still had my looks or else I would have a lot of cats.
When I found Jessica N Designson Etsy I was so excited because it is the perfect marriage of vintage and Etsy.  She offers a little bit of everything from adorable jewelry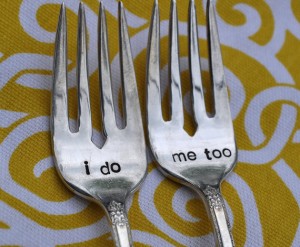 (like this pieceI am going to purchase in the near future) to vintage hand-stamped cake servers, forks and spoons for your wedding.  My favorite item happened to be the adorable cake servers I decided the feature today.  Each cake server is unqiue and you can personalize your server just about any way you'd like.  I absolutely adore the one that says, "You wanna piece of me?".  Why yes, cake, I do.  You can even buy these personalized cake forks.  They can say anything from" bride" or "groom" to the adorable "i do" and "me too".  Seriously, how cute is that?!
Visit Jessica's Blog andEtsy Store for more great ideas.
Other Posts You May Enjoy:
Read More:
etsy
,
handstamped wedding cake forks
,
handstamped wedding cake servers
,
jessicandesigns
,
vintage wedding accessories
,
vintage wedding cake forks
,
vintage wedding cake servers
,
wedding cake forks
,
wedding cake servers