0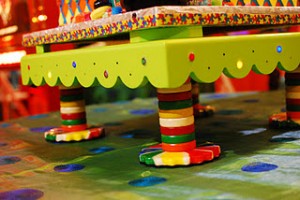 We are no stranger to Jenniffer from Cup A Dee Cakes. We've featured some of her gorgeous cakes before like this Scroll Pattern Cake and we have featured her on our Let Them Eat Cake Round Up more times than I can count.
However, we've never met her brother…until now! Perhaps a coincidence, but regardless, it's incredibly convenient that Mike creates gorgeous custom wood pieces…including cake stands like this one. You can read about the entire process from start to finish here on Mike's blog. The most exciting part? This cake stand lights up.  Although the cake and cakestand were created for a little boy's birthday, wouldn't this fabulous and fun pop of color make for an awesome wedding cake, too?  (Well…we might lose Mater.  Unless said bride and groom were big Pixar fans.)
Oh yeah. Check out the completed cake and cake stand. Now that's a brother and sister that get along.
Read More:
bright colored cakes
,
bright colored wedding cakes
,
candy cake stand
,
candy cakes
,
candy inspired cake
,
cars cakes
,
cupadee cakes
,
custom cake stand
,
disney cakes
,
disney pixar cakes
,
wooden cake stand