belgian chocolate wedding cakes
0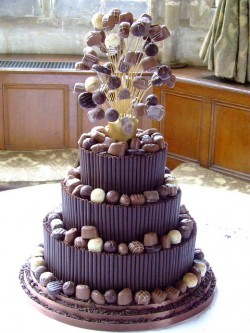 If you weren't craving chocolate before… you're welcome.
What's better than a chocolate cake, enrobed in chocolate cigarettes and encircled with Belgian chocolates?  How about a chocolate starburst wedding cake topper?  Shut the front door!
This chocolate chocolate and more chocolate wedding cake would meet the craving needs of any chocoholic bride out there.  Apparently, once the cake had been served, the chocolates were passed around with coffee.
I love the idea of decorating dessert…with more dessert.  Beautifully executed, we think this would make a swell Read More
Other Posts You May Enjoy: