cakes with fresh fruit
0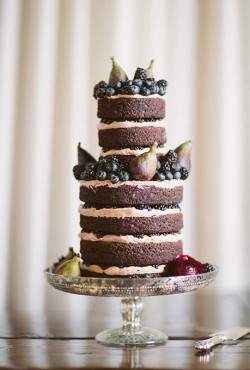 I have been craving chocolate lately.
I blame the displays of Halloween candy in the stores and the fact that I'm trying to avoid sweets.
So, to curb my cravings I've been looking at chocolate wedding cakes. And today's featured cake looks delicious!
This naked chocolate cake is the perfect "undressed" cake for a fall wedding thanks to the espresso frosting and the fresh berries and figs that adorn the cake. Read More
0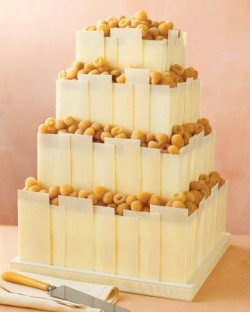 This cake is an amazing architectural masterpiece – four tiers of cake surrounded by white chocolate panels and topped with golden raspberries. And the biggest surprise is that this cake can be a DIY project!
The cake can be purchased frosted but undecorated from your local bakery (or if you're really ambitious, you could make the cake). The chocolate panels can be ordered from Read More
0
Maybe this only happens to me…but I fall in love with bakers. True story.
I fall in love with them and then every single cake I see just kind of blows my mind and suddenly my palms get all sweaty and I kind of want to marry them (marry them in the way one would want to marry a baker I guess) and then I start sending them embarrassing tweets like "Hi..I love your cakes they are great." And then I spend the next few hours checking my Twitter to see if they've replied back while slapping myself on the forehead and muttering Read More