white daisies
0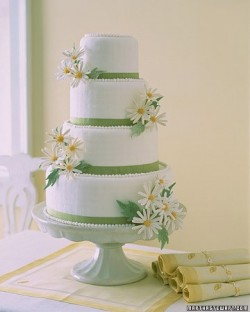 It isn't easy being green, especially when it comes to wedding cakes.
But since we're celebrating St. Patrick's Day today, I wanted to find a cake that had a little bit o' green in its design.
I think this cake with the green ribbons and cheery daisies is perfect. The green isn't too overpowering, and the daisies are such a fun flower that you just feel happier looking at them. Read More
0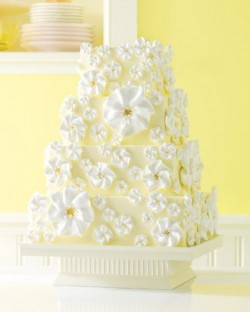 Spring is finally in the air! Can you feel it? I certainly can.
And that's why today I'm featuring a lovely yellow cake – because it reminds me of sunshine and spring and it has a warm and sunny feel to it.
Don't you just love this gorgeous confection?
I'm not a huge fan of yellow, but this cake is subtle enough that the yellow icing isn't garish or overly-bright.
It's pretty and delicate and warm. Read More