white fondant
0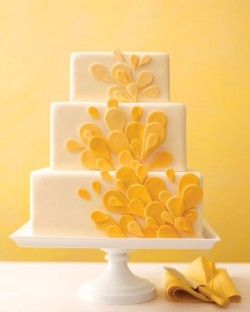 While we all know that crying at wedding is expected, your guests might not expect this tear drop cake.
This cake is so original and whimsical that it is going to leave you and your guests smiling all evening long.
I love the simplicity of the design. It's a gorgeous white fondant cake covered with more fondant "tear drops." Read More
0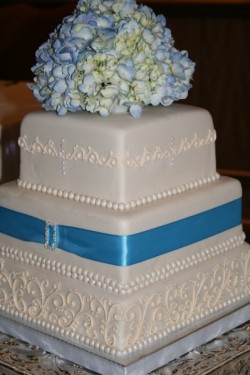 Sometimes all you need is a simple and classic wedding cake.  There is something about light blue and white that brings me inner peace.  That might be why every room in my house has a blue color scheme.
This cake makes me happy.  It's a square cake with three tiers.  It's covered in white fondant and adorned with a light blue ribbon around the middle.  The bottom and top tiers have beautiful white scroll work and the topper is a neat cluster Read More
0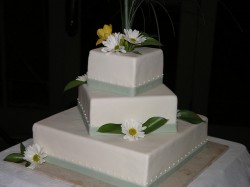 It's been awhile since I've featured a classic white cake.  I have no idea why to be honest.  I guess I just post in phases.
This cake is just like the title says…sweet and clean.  In fact if wedding cakes start making appearances in laundry detergent commercials this one would be a front runner.  Doesn't the look if it just make you think of a cool, crisp spring day with the sun shining and a slight breeze?
Is that just me?  I know it's a little odd to equate laundry detergent commercials to wedding cake but it is what it is.  This cake is a clean three tiered square cake covered in crisp white fondant.  There is a light blue stripe around each base.  I actually just painted me bedroom a color similar to this and it makes me feel like I am at the beach.  Of course, the Gerber Daisies are what do it for me.