Circle Wedding Cakes
Think of a traditional wedding cake, and chances are, you will immediately envision a tiered white cake with round layers. Round, or circle, wedding cakes are the standard for tradition. Whether the layers are separated by columns, or rest one upon another, it is safe to say that the majority of tiered cakes favor layers that are round in shape. In recent years, bakers have added interest to the otherwise traditional (and sometimes unexciting) profile of a round cake by stacking layers that are very similar in size, or by varying the height of various layers. But regardless of the size and height, circle wedding cakes are here to stay. And what could be more appropriate to signify and celebrate unending love, than the circle?
0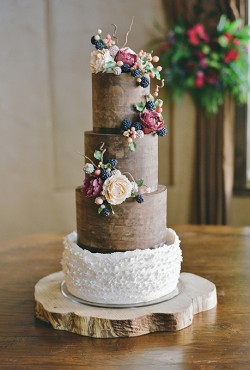 The Halloween decorations are down and now it's time to think about all things rustic and fall-like!
To celebrate the beauty that is fall, it only seems appropriate to highlight a gorgeous and rustic fall wedding cake that incorporates a lot of fall into its look.
I love the bark-like look of the top tiers of this cake – it gives the cake a nice rustic vibe without being too harsh. Read More
0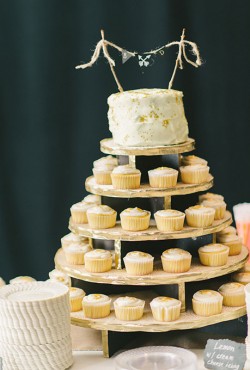 I love cupcakes. And if given the chance I'd serve cupcakes at every celebration I host, including a wedding reception.
Sadly, when I was married all those years ago the wedding cupcake trend hadn't happened yet.
But now that cupcakes are all the rage, it is the perfect time to add some cupcake fun to your reception dessert table!
I love the idea in today's featured cake photo – a small wedding cake (for the newlyweds) and cupcakes for all the guests. You could have so much fun with this concept – think of the flavors you could have with those cupcakes!
You could choose seasonal flavors, classics like white and chocolate, and even fan favorites like red velvet (my all-time favorite cake flavor).
And to add even more deliciousness to the party, make sure you have cute take-home boxes and enough cupcakes for you guests to take one for the road.
You'll find this cupcake and cake tower here.
0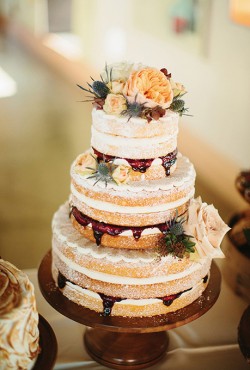 Fall is definitely here and that means it is a perfect time to check out some rustic wedding cakes!
I love the idea of a cake that represents the season of your nuptials and rustic seems to go hand-in-hand with everything fall!
Today's cake happens to be a naked wedding cake – a trend I'm starting to love more and more – and it has a special touch thanks to some jam filling. Read More
0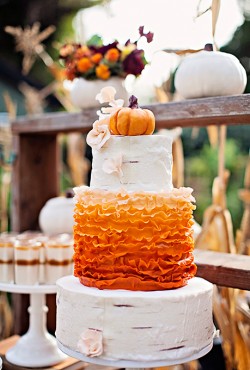 Of the best things about fall is the annual visit to the local pumpkin farm. We get to pick our own pumpkins out in the fields and then it's time to buy pumpkin doughnuts.
There's no denying that the pumpkins are the stars of the season.
And so, if you're planning a fall wedding it only makes sense to add some pumpkins to your decor or even to the dessert table. Read More
0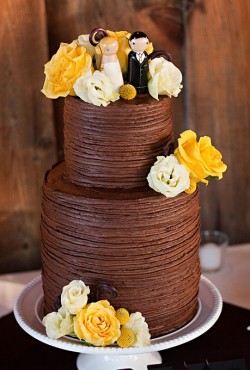 If I had the chance to do my wedding cake over, I'm pretty sure there would be chocolate involved. As in, I'd have an all chocolate wedding cake.
Because, chocolate.
I love the idea of bucking a trend – white wedding cakes – and serving something you really love. Like chocolate cake. Or at least cake with chocolate icing. Read More
0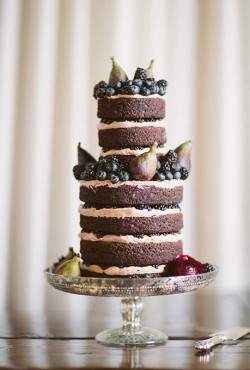 I have been craving chocolate lately.
I blame the displays of Halloween candy in the stores and the fact that I'm trying to avoid sweets.
So, to curb my cravings I've been looking at chocolate wedding cakes. And today's featured cake looks delicious!
This naked chocolate cake is the perfect "undressed" cake for a fall wedding thanks to the espresso frosting and the fresh berries and figs that adorn the cake. Read More
0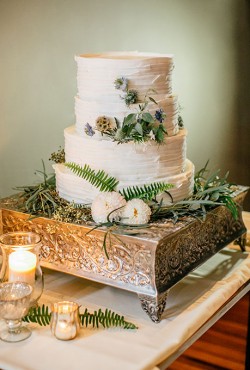 I love this time of year – the leaves are changing colors, the nights are cooler, and everything is about fall!
So if you're getting married during this season, why not choose a wedding cake the plays on the themes of the season without being too over-the-top?
Today's featured cake is one of those perfectly fall cakes. Read More
0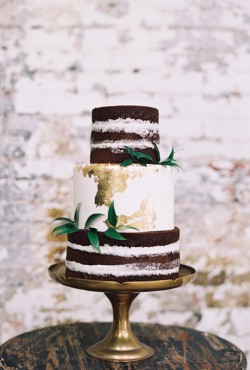 We're still celebrating the start of fall over here, so it seems like a good day to showcase another stunning fall-inspired wedding cake.
While the jury is still out on the whole "naked wedding cake" trend (since we do love frosting), this naked chocolate cake with the golden center tier is stunning. Read More
0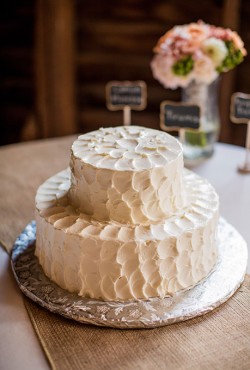 After featuring several non-traditional wedding cakes lately it seemed like a good week to head back to the basics.
So today, we're talking about a lovely white wedding cake. Boring? No way.
Check out this beauty. Read More
0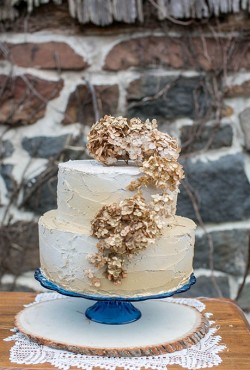 There must be something in the air this week … this is the second gold-toned wedding cake we've featured in the past few days!
I'm beginning to think that I have gold on my mind. Which isn't a bad thing.
Lately I'm starting to look for more rustic wedding cakes – I still love the over-the-top elegant cakes, but there's something to be said for a simple yet gorgeous rustic cake.
Like today's cake. Read More