Circle Wedding Cakes
Think of a traditional wedding cake, and chances are, you will immediately envision a tiered white cake with round layers. Round, or circle, wedding cakes are the standard for tradition. Whether the layers are separated by columns, or rest one upon another, it is safe to say that the majority of tiered cakes favor layers that are round in shape. In recent years, bakers have added interest to the otherwise traditional (and sometimes unexciting) profile of a round cake by stacking layers that are very similar in size, or by varying the height of various layers. But regardless of the size and height, circle wedding cakes are here to stay. And what could be more appropriate to signify and celebrate unending love, than the circle?
0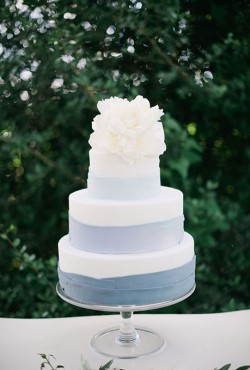 Today is the second day of March, which means we are daydreaming about springtime and flowers and warmer weather.
However, it is also currently snowing outside so we are also thinking about snow and ice and cold – all the wintry things that look like the colors of this cake.
We love this gorgeous cake. The three tiers each feature a different shade of blue and it gives it an elegant ombre look. Read More
0
Red and white is one of my favorite color combinations. There is such a stark contrast between the two colors, I just can't get enough of red and white.
Take today's featured cake – featuring bright white icing and bright red fondant ribbons – it's elegant and simple and quite perfect. Read More
0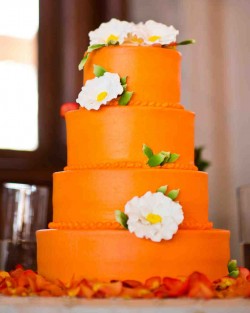 It might be the middle of winter but that won't matter when you check out this bright orange wedding cake!
This brightly hued cake will boost your spirits immediately and bring a smile to your guests' faces. And really, who expects to see an orange wedding cake at a reception? No one, that's who. Read More
0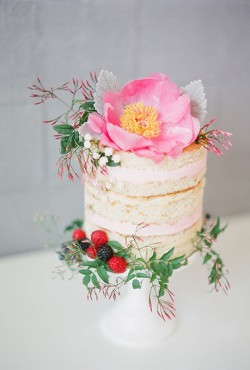 We're still daydreaming about spring even if winter is still hanging on and sending more cold temperatures our way.
And one of the things we love most about spring is the arrival of gorgeous flowers.
Of course we also love fresh flowers on wedding cakes, like the blooms on today's naked wedding cake. Who needs icing when you have flowers, right? Read More
0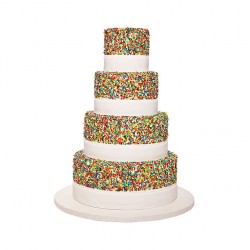 Happy February! We're thismuch closer to spring now!
And we're thinking warm and cheery thoughts today with this fun rainbow wedding cake.
Who needs a plain ol' white wedding cake when you can add sprinkles for some fun and whimsy? Read More
0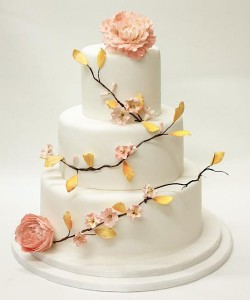 It seems like a good time to start dreaming about springtime wedding cakes adorned with gorgeous blooms.
Never-ending winter weather will do that to a girl, ya know?
I'm loving this wedding cakes thanks to its simple elegance and charm. Read More
0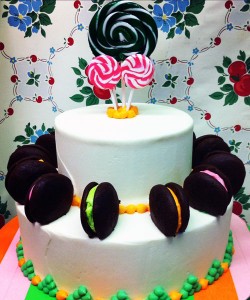 OK, here we are. In the middle of January. It's cold and snowy and we need something to cheer us up!
Well I'm happy to report that I found something – this wedding cake!
How can you not smile when you look at this fun and whimsical wedding cake? It is decorated with whoopie pies for crying out loud.
Whoopie pies. On a wedding cake. My day is complete. Read More
0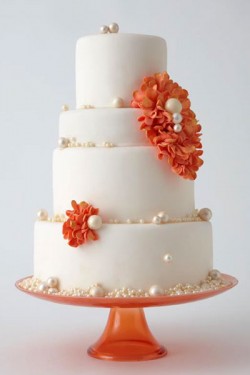 There's a fresh blanket of snow around here today, which has me daydreaming about spring and sunshine and flowers.
So of course that means that I had to find a cake that featured a bright, springy flower!
This elegant white cake with the peach flowers is the perfect antidote to a gloomy winter day.
The multi-tiered white cake features classic white icing that could have been boring but for the addition of the different sizes of pearls. Read More
0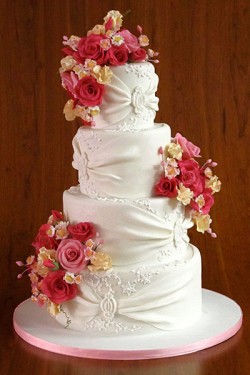 Winter is really REALLY here. Which means it is the perfect time to start dreaming about beautiful spring flowers!
Today's cake is perfect for floral daydreaming, don't you think?
I absolutely love the gorgeous pink roses – they make the cake almost too pretty to cut. Almost. Read More
0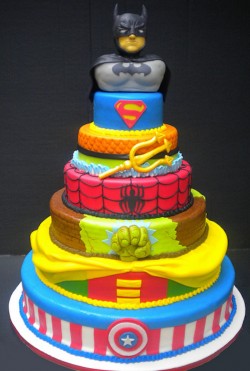 Happy New Year!
Since we're just a few days into 2016 it seemed like a good time to ease into the week … especially for those of you who might have been enjoying time off for the last week (or two).
So today's cake is all about fun – check out the superhero wedding cake!
Now granted, they're mixing Marvel and DC Comics which might be a big superhero no-no, but we don't care. This cake is COOL! Read More