Circle Wedding Cakes
Think of a traditional wedding cake, and chances are, you will immediately envision a tiered white cake with round layers. Round, or circle, wedding cakes are the standard for tradition. Whether the layers are separated by columns, or rest one upon another, it is safe to say that the majority of tiered cakes favor layers that are round in shape. In recent years, bakers have added interest to the otherwise traditional (and sometimes unexciting) profile of a round cake by stacking layers that are very similar in size, or by varying the height of various layers. But regardless of the size and height, circle wedding cakes are here to stay. And what could be more appropriate to signify and celebrate unending love, than the circle?
0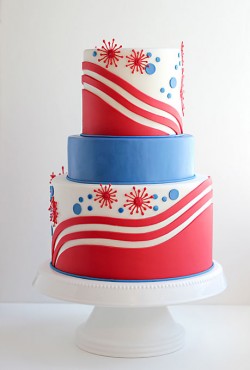 I don't know about you, but I've been glued to the television every night watching Team USA at the 2016 Olympic Games.
So that got me thinking about red, white, and blue wedding cakes – of course! – so my mission today was to find a patriotic-themed cake in honor of Team USA.
I think this cake fits that bill! Read More
0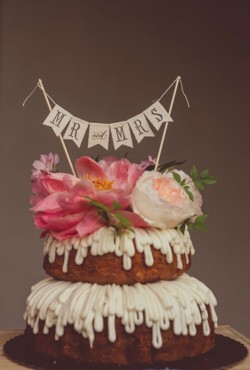 Ah, bundt cakes. The ubiquitous cake of the 1950s and 1960s.
They're so retro that they're cool again – just ask my mom. She loves to bake bundt cakes for family birthdays, complete with homemade chocolate drizzle.
Imagine having a bundt cake as your wedding cake – now that would be cool. Plus, they're basically the original "naked" cake, with only a drizzle of frosting. Read More
0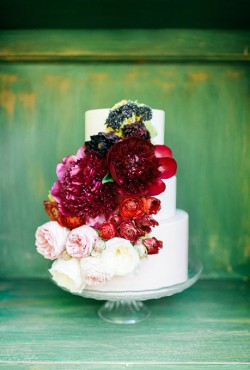 I'm a big fan of fresh flowers on wedding cakes.
My own wedding cake was adorned with bunches of Black Magic roses and those dark red blooms made the white cake really pop!
Today cake goes floral in a really big way!
The three tier cake is almost taken over by bright flowers, but oddly enough it works without being "too much." Read More
0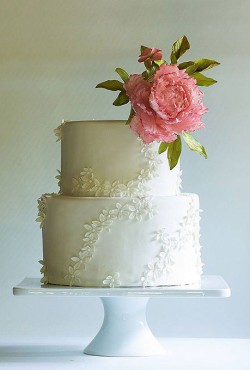 I'm back with another lace-inspired wedding cake because I honestly just can't get enough!
Today's cake is one that I could stare at for hours, it's so gorgeous.
The lace effect on this cake was painstakingly created by creating dozens of tiny sugar blossoms and then arranging them in a trail on the cake. Imagine the time it took – this cake is really too pretty to eat! Read More
0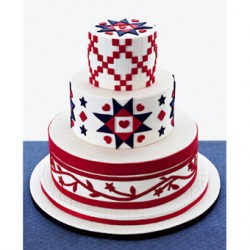 Happy Fourth of July!
While I hope you're enjoying a family cookout and lots of fireworks, it seemed only appropriate to showcase a patriotic red, white, and blue wedding cake today!
I love the abstract look of this cake. It's modern and fun with that all-American vibe thrown in for the holiday. Read More
0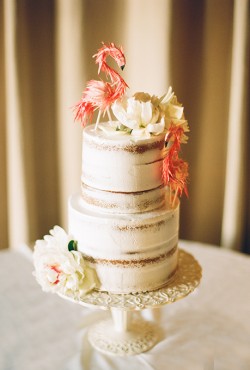 Strangely enough (or maybe not so strangely considering my love for all things warm and tropical) I adore flamingos.
Yes, they're odd looking – tall, pink birds – but they make me think of warm climates like Florida. Which makes me think about summer.
So it seems only fitting that I am in love with this summer-themed cake, made complete with the addition of adorable flamingos. Read More
0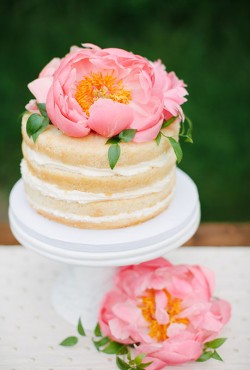 Sometimes, less is better.
For example – when it is 95 degrees outside with 1 million percent humidity, it's better to be in a bathing suit than a business suit. Less is better.
The same can be said of wedding cakes. When it's hot and humid outside sometimes the last thing you want is a wedding cake with a whole bunch of icing. Read More
0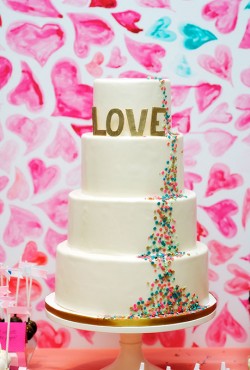 And it's time for another sprinkle wedding cake! I can't help myself – I'm totally in LOVE with these cakes.
I can't explain my obsession with wedding cakes adorned with sprinkles. They're just so fun and whimsical yet still with an air of elegance.
And I'm in love with today's cake thanks to the subtle yet colorful cascade of jewel-toned confetti sprinkles and the golden 'LOVE' cake topper. Read More
0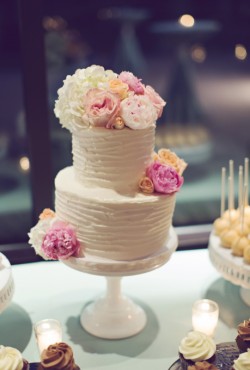 I love this time of early summer – a couple weeks after all the flowers have been planted, when they're still bright and blooming.
My backyard looks like a flower shop with pots and containers full of pink and purple blooms.
Which brings me to today's wedding cake – a lovely two-tier confection topped with fresh garden flowers. Read More
0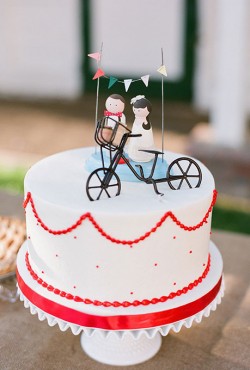 If there's one thing I really love to see when it comes to wedding cakes it's a cake that doesn't take itself too seriously.
After all, your wedding day should be filled with fun and smiles so why not add a touch of whimsy to the cake table?
Take today's cake as a perfect example – it has a fun carnival theme and a super cute cake topper to boot! Read More