Groom's Cake
Once a rarity at weddings, groom's cakes have gained such popularity that now, it's rare to go to a wedding that doesn't feature this alternative to the main wedding cake. The tradition of groom's cakes in the United States has its roots in the South. Normally, a groom's cake is a gift from bride to groom, and acts as a foil to the often feminine, traditional wedding cake. Normally, groom's cakes do not feature anything flowery or feminine, and often take the shape of something with significance to the groom – a mascot for a favorite sports team, a college logo, a favorite hobby or beverage. Likewise, the flavors of the groom's cake will typically contrast with the wedding cake, and will often be something "dark," such as chocolate or a liquor-soaked cake of some sort. Another popular option for a groom's cake is a cheesecake, which typically does not lend itself well to being stacked in multiple tiers (although it can – and is – done.) Groom's cakes are usually served on a separate table from the wedding cake, and may sometimes even be served at the rehearsal dinner the night before. Want to represent your groom in some meaningful and whimsical way to your wedding guests? A groom's cake may be just the thing.
0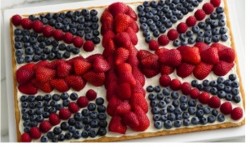 So…maybe it's a little "backyard barbecue" – or whatever the equivalent is Across the Pond – but I thought this cake was pretty darn adorable.
I think that it was technically created to fete the Duke and Duchess of Cambridge on their Read More
0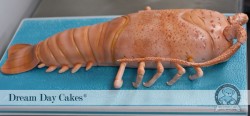 So, last week, we showed you the adorable "He's Her Lobster" groom's cake, created by the ab fab Jenniffer of Cup a Dee Cakes in Georgia.  We were thrilled then to hear from our Read More
0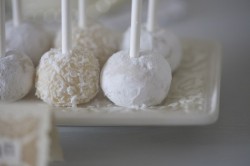 Greetings, Cake Lovers and Seekers of Pretty and *sigh* Moments!
What have you been up to this week?  I confess, I've had one foot in Fantasyworld (or rather, in the Happiest Place on Earth) and the other in the quagmire that is the last month of the school year.  Will it ever end?  I suppose that's counter Read More
2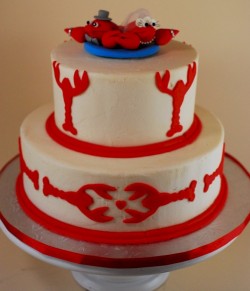 You know the episode.  Of course you do!  Ross.  Rachel.  Phoebe and the lobsters.
Well, Jenniffer from Cup a Dee Cakes in Georgia (see!  I told you to stay tuned for another fabulous Cup a Dee cake!) likes to think that episode is the idea behind this one.  And I (and a couple million of my closest friends who were also glued to the TV on Thursday nights in the nineties) would like to agree.
While Jenniffer says the cake was a Read More
0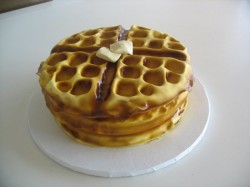 On Saturdays, I always wake up craving those big, country boy, farmhand breakfasts.  I am neither a boy, nor do I live on a farm, so I'm not sure why my body things I need that many calories.  Nevertheless.
Doesn't this groom's cake just look scrumptious?  I would LOVE to know what flavors are under that impeccably Read More
0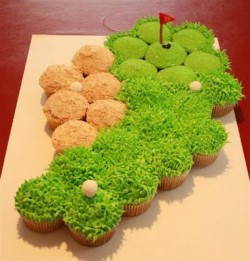 Have you seen this fun idea – taking a cluster of cupcakes, and decorating them to be a unified them, which can look almost like a sheet cake – only WAY funner?
I admit, up to now, I've seen this creative technique applied mostly for children's birthday parties.  But I love LOVE using cupcakes for a groom's cake!  I mean, why shouldn't your Main Squeeze celebrate the Big Day with manly cupcakes of his own?
This look is Read More
0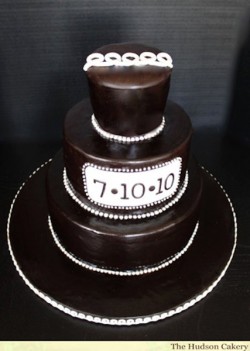 What is with me and chocolate lately? Wait. Could there BE a dumber question?  Eh.  It is what it is.  And…what it is…is another chocolate cake from Brooke. 😉
But look at it, will ya?  Like I could resist!  It's a giant Hostess cupcake, perched upon the top of what we suspect is the groom's cake for a lovely summer celebration.  And it's perfectly executed and instantly recognizable.
Okay, so…confession.  I was never really allowed to have these as a kid, and I wouldn't let my children touch Hostess products with a ten-foot pole, so they would have Read More
1
Exactly one year ago today I jumped on-board this bandwagon called A Wedding Cake Blog. It's been a great year and I have literally been up to my eyeballs in frosting ever since. I've talked about cupcakes, traditional cakes, very blue cakes and been introduced to Cake Pops and Mini-Cakes. I've over-shared..I mean really..who knew that a simple wedding cake could inspire so much random blubbering? So on the eve of the eve of the New Year I've decided to take a look back at my top ten favorite posts of Read More
0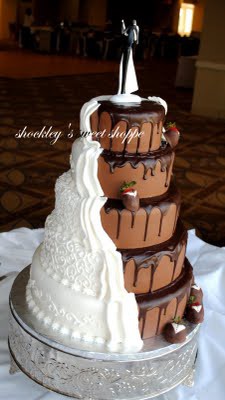 This cake caught my interest on Pinterest. Why? Because I feel like it summarizes my life. I am a teacher so I spend most of my days sticky sweet and annoyingly traditional. However, every once and awhile I can easily flip to the dark side and my kids think "Hey, she's a little nutty".
So. That's me. Half a traditional beautiful white cake and the other half a gorgeous chocolate groom's cake. I have never seen a cake like this and to tell you the truth, I love it. The couple decided Read More
0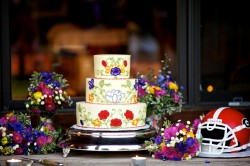 What a great time of the year!  We hope that you had a wonderful Thanksgiving, gathered together with family or friends – or both!  We did, and we're still enjoying those fantastic leftovers!  And while our attention is rapidly turning to Christmas and the winter holidays, we're excited to bring Read More