Modern Wedding Cakes
The term "modern wedding cake" may mean different things to different people. Here at A Wedding Cake Blog, we take the term to mean anything with a contemporary feel; a cake that eschews the traditional white on white, piped and buttercreamed and trimmed with swags or roses. Modern may refer to a bold use of color, or a contemporary decor or shape. It may also refer to choosing something other than the grand, traditional tiered cake – a cake of macarons, for instance, or an assortment of individual cakes. Modern means that you are updating the tradition: perhaps you aren't entirely throwing it out. You're just giving it a breath of fresh air.
0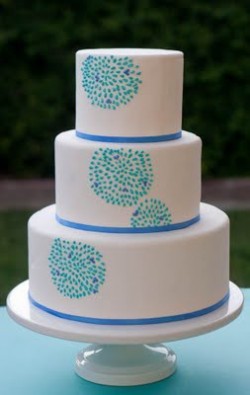 Since I joined A Wedding Cake Blog a few weeks ago I have been searching non-stop for fabulous cakes to feature. And time and time again I will find an incredible cake, fall in love, and come to find out that it is the brainchild of Erica OBrien. This one is another find off of Pinterest and I absolutely adore it!
I love the simplicity and clean lines of the cake. It looks modern and traditional at the same time. And I love love love the different shades of blue she used to bring in a pop of color. I think the little hearts (although Read More
2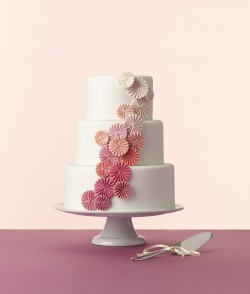 This cake is modern and girly and oh so fabulous! The pink pinwheels are the perfect accent for the simplicity of this white cake.
And I absolutely love the pink ombre coloring that Erica O'Brien Cake Design, of Hamden, Connecticut used to accent the cake. Ombre coloring is all the rage from hair color to clothing to party decor and even cakes. And it is executed perfectly here. Not too much pink but Read More
0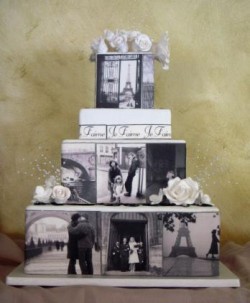 And where does this first day of April find you?  We are chillin', back home from our little getaway, and eager to take on the last quarter of school before – yippee! – summer vacay!  While it's hard to stay focused some days, when I remember that my focus is on, you know, cake and pretty…well, it suddenly puts it all in perspective.
So, what are your favorite finds lately in the world of wedding?  Let's compare notes!  But first, we'll take a look at Read More
0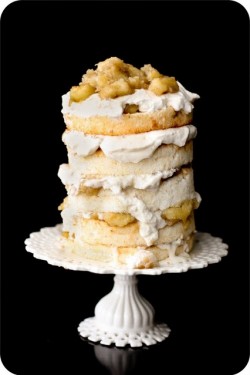 A couple of weeks ago, I featured this naked wedding cake, and got (mostly) rave reviews!  Y'all loved its rustic warmth and general yummy lookingness.  Well, I couldn't help but share this one with you, too.  Because it's kind of a mess, but I lurve it.
This bananas foster naked cake is obviously inspired by the flambe dessert that has been made famous in New Orleans.  I love the perfectly controlled chaos here – layer upon layer of cake and bananas and yummy filling, heaped, but neatly heaped.  All displayed on a lovely, vintage  milkglass pedestal stand.
How darling would this cake be for a Read More
2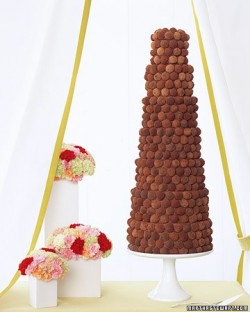 Care for some chocolate?  Because I am having a totally chocolate attack.  And now, so are you.
Martha strikes again, y'all.  Don't you simply love this?  Inspired by the French croquembouche, which is a tower of cream puffs covered with spun sugar, Martha Stewart and Co. came up with this chocolate truffle wedding cake.  This is seven layers of cake, coated with chocolate ganache.  The hand rolled truffles are then coated in different cocoa powders for slight variation in color, cut in half, then Read More
0
I ran across another cake by Becky at Consumed by Cake, which led me to a little digging (I simply had to know more about her lovely work), which led me to brashly introduce myself to her when I found this incredible hand painted tattoo wedding cake.
The introduction went something like this:
"Hi, my name is Brooke, and I am in love with your cake."
Becky graciously responded to my fawning and gushing, and sent me some darling details about this one.  This was, it seems, her first "international" wedding cake!  The couple, from Belgium, saw Read More
0
I love showing you something a little funky and off the beaten, trendy wedding path from time to time.  This beautiful cake is neither buttercream nor fondant (although we suspect that buttercream is the glue beneath the surface.)  The decoration here is chocolate, believe it or not!  The stunning marbleized effect is achieved by using transfer sheets with edible dye.  The chocolatier spreads tempered chocolate over the acetate sheets, and as it cools to a hardened (though still malleable) state, the cake is wrapped with the sheets Read More
0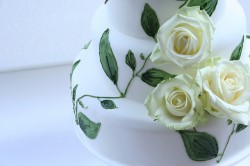 We've seen hand painted wedding cakes.  And we've seen roses wedding cakes.  But we've never seen someone put the two together.  The beautifully talented and oh-so original Victoria Made has once again set our hearts aflutter.
We love the simplicity Read More
0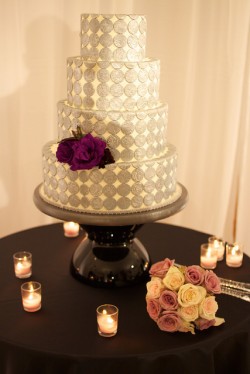 We all know that gold continues to be hot! hot! hot! this year.  But no matter how many gold trends come and go, I shall always be a silver girl (or white gold.  Or platinum.  You get my drift.)
This cake caught my eye right away.  Featured at a wedding in Santa Ana, California, what a rich look it has!  I love the geometrical pattern of the coins all over the cake; it's executed flawlessly…and do NOT think that that happened without a whole lotta work.  The edible coins rest on a palette of buttercream, and the whole thing is quite Read More
0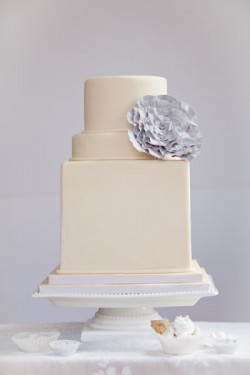 Isn't this pretty?
There is nothing that I like better than taking a little tradition, and twisting it on its head.  You still have the elegance that you started with, but you end up with something totally new and unique.
Here, we have a lovely white cake.  Sounds a little boring, yes?  But how could it be?  Our cake artists have played with shape, giving us both square and round.  They've changed up the Read More