Simple Wedding Cakes
Sometimes simple says it best. You might choose a simple wedding cake because you prefer a minimalist approach, or because you like you like to stick with the basics when it comes to cake, or even because you are interested in showcasing a particularly fancy flower or cake topper, simple wedding cakes never go out of style. The basic, stacked, white wedding cake, frosted in a smooth coating of buttercream or covered in a snowy blanket of fondant, may hide beautiful flavors and colors beneath its exterior – the best of both worlds. Or maybe you and your groom prefer the traditional "white cake, white frosting" approach – or "chocolate cake, chocolate frosting" – after all, simple doesn't necessarily mean traditional. On the other hand, a simple cake may be the perfect way to showcase a special caketopper or flower that has personal meaning for you. A topper that shows your style or a hobby that you and future hubby share becomes all the more visible when it doesn't need to compete with a fancy cake. Maybe you have a family heirloom that can nestle atop your cake. Alternatively, some dazzling orchids or floppy peonies may be all the statement that you need to make. A simple cake need not be boring, after all.
1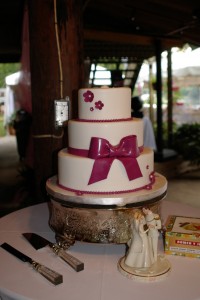 I love when a plan comes together.  And today's cake is an example of just that.
This lovely cake is the beautiful work of Kristin from Fat Girl Cakes in Fredericksburg, Virginia.  Kristin tells me that the bride for this wedding wasn't quite sure what she would like in terms of a cake.  When they met, Kristin flipped through a book of cakes for inspiration, and the bride mentioned that she loved one of the display cakes as well.  She seemed to gravitate toward cakes that featured bright colors…and that's all Kristin needed to get the creative ball rolling here.
So…where does the "plan come together" Read More
Other Posts You May Enjoy:
0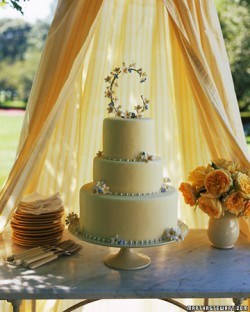 We're seeing lots and lots of monograms of late in connection with weddings…and I, for one, am not complaining.  I love, love monograms (which, if you knew me, would not surprise you in the least.)
Lately, though, most of the monograms have been in the form of a placard on the side of the cake – a classic detail that I fall in love with all over again everytime I see it.  Another option – the swooshy rhinestone jobby on the top of the cake.  Sparkles and pretty.  Perfection.
But – ever in search of something new and just a little different Read More
Other Posts You May Enjoy:
0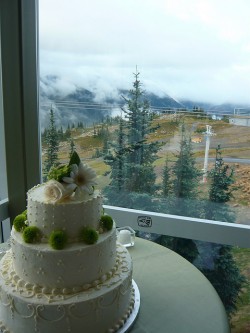 Ah, the elusive…green flower.
The what? Yes. The green flower. Rare, and a little strange, but always beautiful.
You can find green-hued flowers in varieties such as geraniums and orchids.  But wait, this isn't a botany blog, is it?
I love this cake.  My love of white on white cakes was discussed last month here and here.  And today, I find another example of a white on white cake, with just a little punch of unexpected color, via green flowers.  The simple mums encircle the base of the top tier Read More
Other Posts You May Enjoy:
0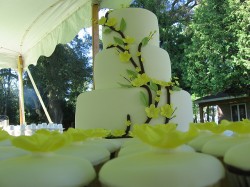 So, we've seen many cherry blossom wedding cakes of late.  But until now, I hadn't seen yellow blossoms…and I am in love.
This cake, covered in fondant (ohso appropriate for the casual elegant outdoor reception), is trimmed with a meandering branch that spans all three layers.  Daintily perched on the branch are pale yellow blossoms Read More
Other Posts You May Enjoy:
0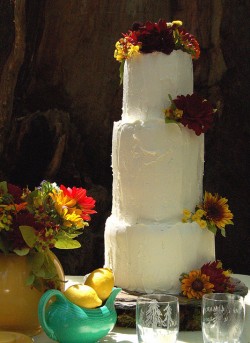 I love me some fall.
Sure, most of the time (read: last week), you'll find me prattling on about the beach and beachy fun.  But truth be told, autumn is my favorite time of the year.  And you don't get so much autumn in Florida, until, oh, around January.
So about this time of the year, I start manufacturing autumn in my head.  And I do that by baking with pumpkin and apple, and looking at fall-y things.  This cake is just such Read More
Other Posts You May Enjoy:
0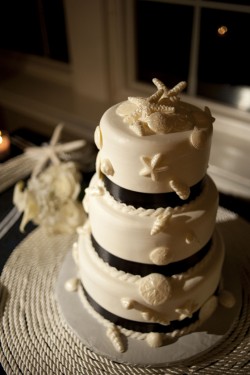 What an awesome week!
While we're resting up from some great time with friends and family and making the last of the last few days of summer, we're still all about the Sweet and Pretty!  Here's what we saw from The World of Wedding this week!  But first, The News:
Kim Kardashian and Kris Humphries made it official yesterday.  Like you didn't know.
How's this for romantic?  The groom surprises the bride with a wedding - and gets all the details right!
Thinking of going green for your nuptials?  Here's how one Kansas Read More
Other Posts You May Enjoy:
0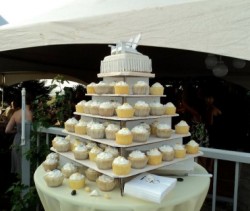 I am in love. I am in love with a group of cupcakes.
Y'all know that I'm a beachy kinda girl, n'est pas?  I mean, give me two spare hours and see if you'll catch me ANYWHERE else.  I will be under the umbrella, swimsuit on, iPod tuned to something mellow, watching the tide ebb and flow.
So it should come as no surprise that I instantly fell in love with this aDORable Read More
Other Posts You May Enjoy:
0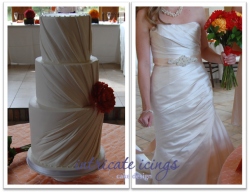 So, I'm clearly inspired to keep the white wedding cake love going for a day or two longer…
Check out this incredible cake by the Intricate Icings.  I was floored when I saw the artistry here…they have actually succeeded in making fondant behave like fabric!  In this case, the bride sent in a picture of her dress as inspiration, and Read More
Other Posts You May Enjoy:
0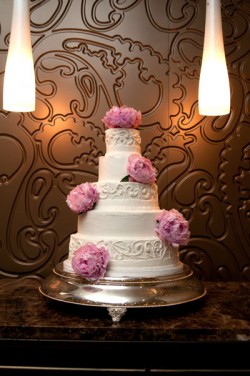 Blame it on the heat, or possibly overstimulation.  But lately, I've been craving posts about white wedding cakes.
Color is fun, color is fab, and color will probably be the star of my next post.  But the other day, as I was writing a guest post for another loverly blog (more about that later!), I began to search our catalog of cakes for a white cake.  And I couldn't find one.
Now, there's a lot of talk out there about "boring white wedding cakes."  I suppose that, if you're a baker and you're stuck making white cake after white cake, that would get a little, you know, mind-numbing.  But sometimes, Read More
Other Posts You May Enjoy: