Square Wedding Cakes
Square wedding cakes have gained in popularity over the last few years. While they still trail their round counterparts significantly, they are the second most popular shape that cakes take in today's wedding cake world. The couple who chooses a square cake may have a myriad of reasons for doing so. Maybe they just want something a little different. Or maybe a particular design feature that they have chosen works better with a square cake, such as a monogram. Perhaps the couple (or the bride, or the wedding planner or caterer) has a lovely old cake stand to feature, and it just so happens to be square in shape. Whatever reason, square cakes, whether separated by columns, or stacked with tiers directly on top of one another, emphasize the couple's attention to detail. Round cakes are the default; square cakes must be requested, and for that reason, seem just a little more special.
0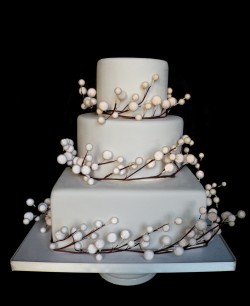 You all know how much I think of Winter (i.e. not much)….but one thing I love is a winter wedding. Snowflakes, glitter, silver and beautiful berries…my heart runneth over.
When I saw this cake I envisioned a lovely bride in Snow White gown, a fur stole and elbow length gloves. The bottom layer is a square shape and the top two tiers are round. I love the mix of the two shapes..it adds a bit of modern flare. Around the base are gorgeous Pearlized Snow Berries. It looks good enough to eat.
Oh but wait..you can't..because Read More
0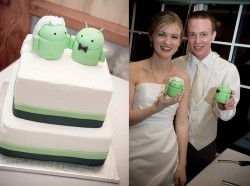 I've always thought that a wedding cake should show off a couple's personal style.
A classic monogrammed cake? You are traditional and classic.
A fun cute with lots of flowers? You are probably Read More
0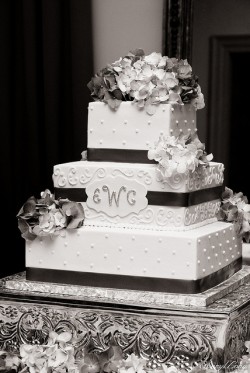 You know how much I loved monogrammed cakes. So I've decided to start the week off right by showcasing this GORGEOUS monogrammed cake. I was so intrigued by this cake I decided to do a little digging. The black and white picture is gorgeous..but I had to know more!
So off I went to visit my BFF Google. After some digging I discovered that this cake was baked by Read More
0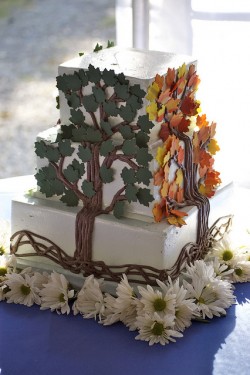 Including cakes! I have to admit when I saw this cake from a distance I wasn't exactly sure what was going on.
Then with closer inspection I realized that this is a basic three tiered square cake. Only this cake was a little different! On each side there is a tree and each tree represents a different season. It's the weather cycle at its best folks. Now, this isn't something that could just be slapped on a cake Read More
0
Oh my, oh my! I feel my income tax bracket rising just looking at this cake!
This four tiered square cake was made by Parkland Cakes in Columbia, South Carolina. The square design Read More
2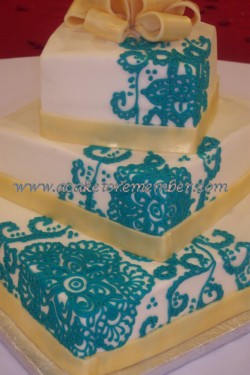 Welcome to A Wedding Cake Blog's first Sunday Round-Up ever!
Here, we plan to give you some interesting tidbits to snack on, as we review fun things that have happened in the world of wedding cakes this week.
If you know an awesome wedding blogger or bakery that you'd LOVE to see us feature on aWCB, please send us a comment!  We are ALL about making friends and learning what's new Read More
0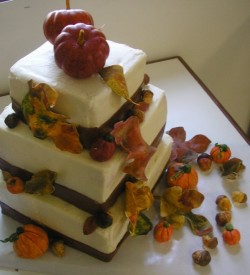 Let's face it. The holidays are over. The tree has come down, the lights have stopped twinkling, the stores are a little less silver and sparkly and that neighbor who won't take down his large inflatable Santa and Rudolf is starting to get on my nerves even though less than two weeks ago I stared out my window at the gorgeous decorations. What we are left with now is Winter. Dead, ugly winter.
What better way to cheer me up than a cake celebrating Read More
0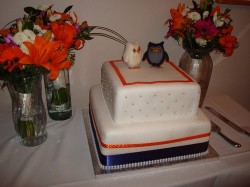 The more weddings and baby showers I go to lately (and that's a lot) the more I noticed Owls are hot year.  So appropriately I swooned over this adorable cake with an owl topper.
This yummy two tiered square cake gets a little pizazz by adding Read More
2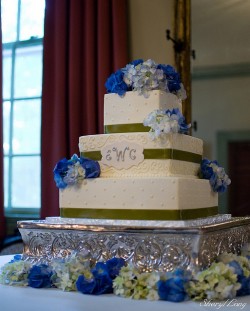 OK, so I could make a fun Sarah Jessica Parker or Huey Lewis and the News reference here (oh look! I just did!), but let's just focus on this gorgeous square, tiered cake. The photographer also has Read More