Unconventional Wedding Cakes
In today's wedding world, it seems that most wedding cakes are unconventional. It's almost unconventional to have a white on white wedding cake! But in an unconventional wedding cake might refer to the design, the topper, or the flavors featured. Regarding design, one popular unconventional style today is the topsy turvy, asymmetrical design. Stacked cake layers give the illusion that the cake could spill over any minute, when in fact, the cake is balanced and level. Unconventional toppers are another way that a couple may make their cake unique. The couple who loves Angry Birds, for instance, can feature the adorable characters perched atop their cake. Can't last a minute without your cell phone? There's a wedding topper for that, too. Prefer Goth to Victorian? No problem. A talented baker can help you realize your dream cake. But you might opt for traditional design and toppers, and still find ways to be unconventional with flavors – even savory alternatives to wedding cakes, like "cakes" made of wheels of cheese, or layers of savory meet pies, might stand in for a conventional cake. So, express yourselves! In cake! And send us pictures.
2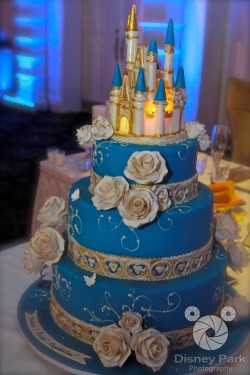 You know we love us some Disney here at A Wedding Cake Blog.  In fact, as I write this, I am entertaining a visit on Wednesday to Epcot and reliving a jaunt to Magic Kingdom last week!  Sigh.  I heart living in Florida.
But I didn't come here today to make you green with envy.  Oh no.  I came to show you a FABULOUS cake.
DisneyRob tapped me on the shoulder a while back and asked me if I'd like to feature his cake on our blog?  And I said, Read More
Other Posts You May Enjoy:
2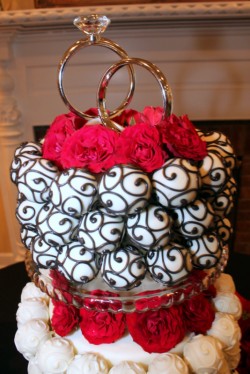 My name is Brooke, and I love cake pops.  (Hi Brooke.)
Omistars…I feel certain that cake pops were some kind of happy accident, or were the obvious invention of thrifty cake bakers who couldn't imagine throwing out all those cake scraps (we used to make rumballs out of all those yummy leftovers.)  Dress them up, put them on a stick, and you have the perfect two bite dessert!
But savvy folks like Julie of Party Pops by Julie are taking the artistry of the humble cake ball to a whole new level.  Check out this incredible wedding cake – made from Read More
Other Posts You May Enjoy:
0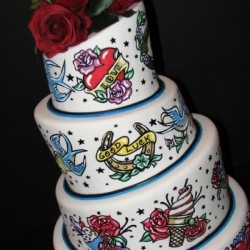 Is your guy inked?  Are you?  Well, then I've found your cake.  You're welcome.
Isn't this cake fab?  The tattoo designs are so retro awesome that I couldn't resist.  And the motifs are darling, from "Love" to "Luck."  And extra points for ice cream and cupcake tattoos!  The topsy-turvy asymmetrical layers are so fun, with red, red roses topping the whole thing in a nod to tradition.  And the hand-drawn designs on fondant are incredible.
We don't know who made this lovely cake, but if you do, we'd love to hear!  We found it on Pinterest.  And even though you'd never want to copy a cake exactly, this is a great cake for taking a stellar concept and making it your own.
Love the idea of a tattoo wedding cake?  See this one we featured earlier this year.
Other Posts You May Enjoy:
0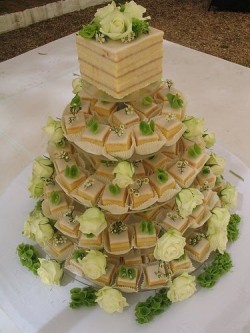 I heart petits fours in the biggest, old-fashioned way imaginable.
They're so darling and so delicious, and you can look at their meticulousness and just tell that they took oodles of time and care to put together.  I love them so much that they keep being featured at my big events, like my wedding shower (and later at my baby showers – both of them!)
Had it occurred to me all those years ago, Read More
Other Posts You May Enjoy:
2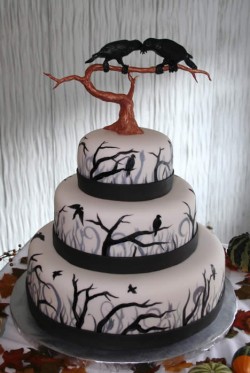 It's that time of year again!  No, not back to school or summer ending or fall beginning.  It's the time of year when I start looking for crazy and fabulous seasonal wedding cakes!  And since I'm already finding TONS, I had to go ahead and give you a preview of the stash with today's post – the Raven Wedding Cake.
This. Is. Read More
Other Posts You May Enjoy:
0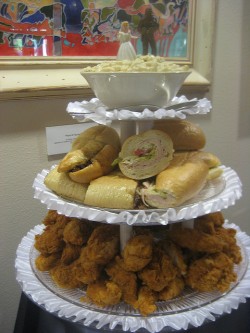 Guys, I had to.
So many times, I see groom's cakes, and I think, that groom had NOTHING to do with picking out this cake.
But this one has the mark of GUY  all over it.
From the chicken tender bottom tier, to the subs on the middle tier, to the bowl of macaroni salad on the top tier (oh boy, I hope they didn't freeze it) and beyond – to the Chewbacca and Bride cake toppers….nothing has EVER said Read More
Other Posts You May Enjoy:
0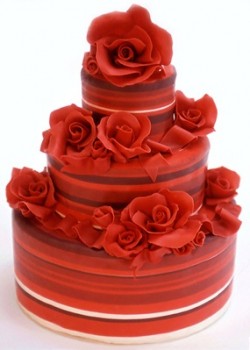 I'm not feeling very subtle today. So I went in search of a cake that would set Brooke convention (you know, beachy, classic, pearls, blah blah blah) on its head.  And this is what I found.
Isn't this stunning?  Bands of different red hues encircle an otherwise simple three-tiered round cake.  A band of white is added on the top and bottom layers for contrast, and the whole thing is trimmed out in Read More
Other Posts You May Enjoy:
0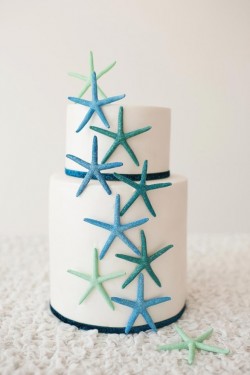 It's beachy, and it's sea glass blue and green.  That makes it perfect.
Now, while I wouldn't put actual starfish on a wedding cake, these gumpaste buddies are just the thing.  The cool colors – all greens and blues and hues in between – are some of my favorite, evoking water and calm…two things that speak to me in soft, soothing tones. The wonky ginormous bottom layer – is triple height the new Read More
Other Posts You May Enjoy:
0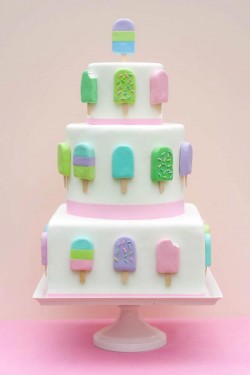 And so, it is upon us.  That time of year that Floridians hate the most.  While the rest of you are flaunting your about-to-dip-into-crispness temperature, we continue to swelter. And since making hay while the sun shines sounds incredibly boring, I'll embrace my lot, Sunshine State Style – with a trip to the beach and an ice cream treat.
I've said it before:  Erica O'Brien is a cake goddess. Check out this simply, stunningly adorable Ice Cream Pop Cake that she came up with.  Her inspiration? Read More
Other Posts You May Enjoy:
0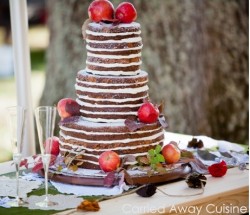 I'm feelin' fall, y'all.
Blame it on all the back to school pics.  My sweet girl went back last week, but just about everyone in my circle – far and wide – have seen their kids off to the school bus by this point.  And so begins the yearning for crisp, cool weather that never comes where I live.
Well, if I can't have Read More
Other Posts You May Enjoy: