Unconventional Wedding Cakes
In today's wedding world, it seems that most wedding cakes are unconventional. It's almost unconventional to have a white on white wedding cake! But in an unconventional wedding cake might refer to the design, the topper, or the flavors featured. Regarding design, one popular unconventional style today is the topsy turvy, asymmetrical design. Stacked cake layers give the illusion that the cake could spill over any minute, when in fact, the cake is balanced and level. Unconventional toppers are another way that a couple may make their cake unique. The couple who loves Angry Birds, for instance, can feature the adorable characters perched atop their cake. Can't last a minute without your cell phone? There's a wedding topper for that, too. Prefer Goth to Victorian? No problem. A talented baker can help you realize your dream cake. But you might opt for traditional design and toppers, and still find ways to be unconventional with flavors – even savory alternatives to wedding cakes, like "cakes" made of wheels of cheese, or layers of savory meet pies, might stand in for a conventional cake. So, express yourselves! In cake! And send us pictures.
0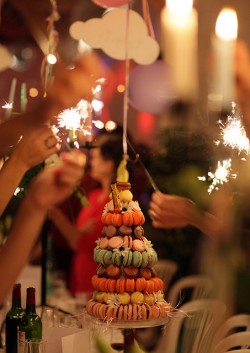 Last month when I talked to you about wedding cake alternatives I mentioned a Macaroon Tower.  I never..ever imagine anything as gorgeous as this.  Sure, sure the lighting combined with the sparklers and an obvious genius behind the lens made this macaroon tower seem extra magical..but I am totally considering a Macaroon Tower at my next event.  And I don't Read More
Other Posts You May Enjoy:
0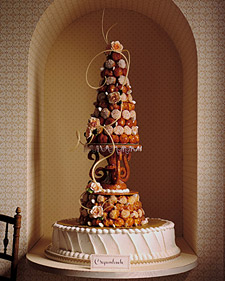 Whew!  Is anyone else dreaming of pumpkin and morning frosts? And jewel toned cakes to replace the summer glaring brightness?
Summer?  I am over you.  It's not your fault, Darling.  After all, I live in Florida, and I can have a taste of you purt near anytime I want.  But the retailers!  They're making me want crisp Read More
Other Posts You May Enjoy:
0
We've talked about black wedding cakes here on A Wedding Cake Blog before, and I have a confession to make:  I didn't love the idea.  Just thinking about all.  that.  dye.  Well, it didn't set well with me.
But here, in my humble girly girl opinion, is the perfect black and white cake for the bride who craves the drama that the stark contrast of this combo brings, but feels the same way I do about the over zealous application of food coloring.  Rather than getting the "black" part of the equation from Read More
Other Posts You May Enjoy:
0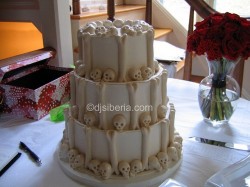 Yup, that's a wedding cake.  With skulls on it.  I think I have seen everything.
I actually filed this away for Halloween but after staring at it for a full fifteen minutes I knew I couldn't wait.  I had to share it now.
This quiet a lovely three tiered stacked round cake covered in flawless white fondant.   Adorning the sides…well we've already discussed that those are small skulls.  The vertical stripes going up the sides of the cake are actually replica bones.  The bride was actually inspired by Tim Burton's Corpse Bride.  I love how this bride took a theme she really wanted (skulls and bones) and presented them in such a classy way.  This could have Read More
Other Posts You May Enjoy:
0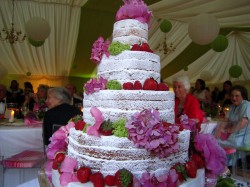 Fondant…buttercream…fondant…buttercream…How about neither?
This is a trend that I've been seeing more and more of lately, especially for our friends across the pond:  a naked wedding cake.  Well.  Not truly nude.  Normally, these lovely and simple cakes feature a filling of fruit preserve and/or frosting, and a Read More
Other Posts You May Enjoy:
0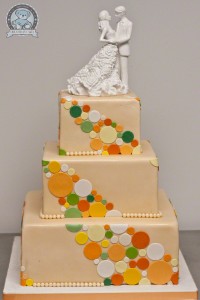 Hiya!
So…how are you keeping cool during this scorcher of a summer?  We're fanning and heading to the beach and drinking plenty of iced tea.  And while summer is scorching the rest of you, it's just plain ole' normal hot here in Florida.
But the heat hasn't stopped the deliciousness that is a summer full of weddings.  We've seen some Read More
Other Posts You May Enjoy:
0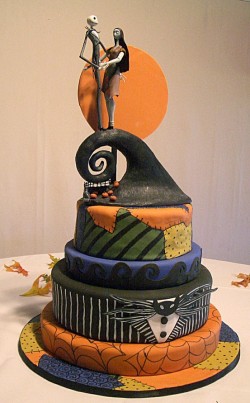 I love The Nightmare Before Christmas. In college my sorority had a Halloween Mixer. Most of my sisters went as nurses or some sort of cute animal like a kitten or a tiger. I think Cady Heron (a.k.a. Lindsay Lohan in Mean Girls… before she went all nutso) said it best, "Halloween is the one night a year when girls can dress like a total s— and no other girls can say anything about it."
Me? I went as Sally from The Nightmare Before Christmas. I didn't get the memo about the skimpy costumes.
When I found this cake on Pinterest I squealed Read More
Other Posts You May Enjoy:
0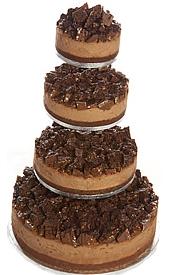 I know I have mentioned this before..but there are people out there who just don't like cake.  If you aren't really a cake person why bother spending a ton of money on a wedding cake or wedding cupcakes?  Your guests might enjoy them but it is your day so you should be able to have a dessert that you enjoy.  Because let's face it:  there really aren't any rules when it comes to weddings.  Also, some brides or grooms have gluten or flour allergies…so why have a cake?  I promise…the wedding police will not come out and place you under arrest if you choose not to have a cake at your reception.
I realize this all sounds pretty weird coming from a girl who spends most of her time writing about or eating wedding cakes.  Luckily, there are a lot of really great alternatives to the traditional cake or cupcake.
Something that kind of blows my mind and that I would be thrilled to find at any wedding is the Cheesecake Wedding Cake.  A wedding cake made entirely of cheesecake.  I've mentioned before that my inner-Golden Girl would SO have a field day with this option.  However, I felt like it was sort of a long shot.  I know cheesecake is a little pricey and I could not even begin to imagine how much a Cheesecake Wedding Cake must cost.  I was pretty pleased to find out that a.) they do exist and b.) you will Read More
Other Posts You May Enjoy:
0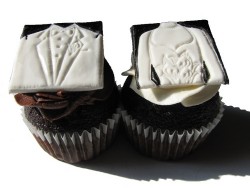 There is something about fondant that just makes everything so beautiful. Don't you agree? For years bakers have been turning out gorgeous wedding cake after wedding cake. They have been able to do such a thing because of one concrete-like material: fondant. It might not be the tastiest thing in the world…but it sure is pretty.
Now bakers are starting to take it to the next level and produce fondant covered cupcakes. Like these red velvet ones that the Read More
Other Posts You May Enjoy:
1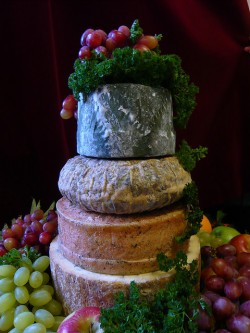 You read that right. It's another cheese period cake period.
When we first posted this back in December I thought it would be the only one we'd ever see. Then the very next month I found this cake, and I had to face the SHOCKING revelation that not all people like cake. Who knew?
Well here we are, almost six months later, and I have found yet another cake made entirely of cheese. Is it just me or do they get more gorgeous every time we find a new one? The next one we find will be like Read More
Other Posts You May Enjoy: