Wedding Cupcakes
Cupcakes. Yum! Wedding Cupcakes. Yum and adorable! Unless you've been living under a rock, then you are aware that cupcakes became hot a few years back, and seem to be here to stay. Cupcake bakeries – cupcakeries – have sprung up coast to coast and around the world. And many are interested in pushing the cupcake envelope, creating ever more beautiful and decadent miniature cake creations, to delight fans everywhere. With the rising popularity of cupcakes, we also have seen more and more couples opting to serve cupcakes, rather than wedding cake, at their big event? Why? Couples cite different reasons. Some just really, really love the cuteness and convenience of cupcakes. Others love all of the different varieties of cupcakes out there, and appreciate that they can serve lots of variety to their guests. Still others cite cost: although the gap is closing, serving cupcakes can cost less than serving a mammoth, show-stopping cake (especially if the crafty bride DIYs the little treats.) It comes down to personal preference. For some brides, it just isn't a wedding without the big cake. For others, cupcakes may be just the special touch they're looking for.
0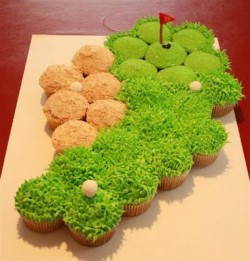 Have you seen this fun idea – taking a cluster of cupcakes, and decorating them to be a unified them, which can look almost like a sheet cake – only WAY funner?
I admit, up to now, I've seen this creative technique applied mostly for children's birthday parties.  But I love LOVE using cupcakes for a groom's cake!  I mean, why shouldn't your Main Squeeze celebrate the Big Day with manly cupcakes of his own?
This look is Read More
0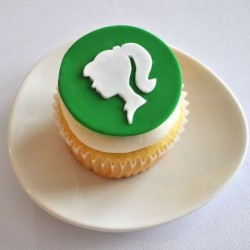 Sigh. I heart silhouettes.
I mean, they're right up there with monograms for a Southern girl, you know? So fabulous.  And the Kelly green background?  It's like a cupcake right out of Lillian Pulitzer, yes?
Okay…so maybe using your own silhouette (just you…no groom involved) may be just a leetle bit full-of-yourself-ish at your wedding, but we think this is a totally kickin' and completely Read More
0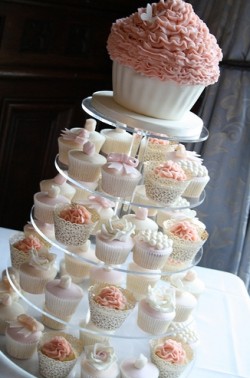 We've all seen those molds for the giant cupcakes.  I mean, they are the stuff that dreams are made of, yes?  I envision sitting down, giant glass of milk in hand, and just digging in.  So when I saw this cupcake tower with a giant cupcake as the pinnacle, the cutting cake, I super loved it.
The sweet, ruffly layers of buttercream and the adorable, lacy papers truly finish the look off in style, but it is the scale of the giant cuppy, which I feel sure will be used for the bride and groom to do their ceremonial cake cutting, that steals the show.  The whole effect – fondant pearls, bows, and flowers, with plenty of Read More
0
So, I love an artfully arranged group of cupcakes, and for a wedding, a display that mimics a tiered cake is certainly adorable and appropriate.  Still, for that bride who would like to do things a little differently, or stand out from the crowd just a wee bit, I offer you…Cupcake Bouquets.
Dress your cupcakes up like your favorite flower, find some whimsically-colored flower pots, and make a bouquet out of your cuppies!  I think this is brilliant.  Guests can Read More
0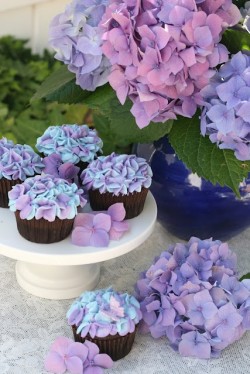 I am declaring this Cupcake Week, y'all!
I've been flirting with the idea for a few days.  I love wedding cakes – obviously – but sometimes, you just have to change things up a bit, yes?  And so, we're going to celebrate the tiny treat that started it all this week.  Before there were baby cakes…before there were cake pops…there were cupcakes.  At every birthday party, at every school holiday party…our collective childhood Read More
0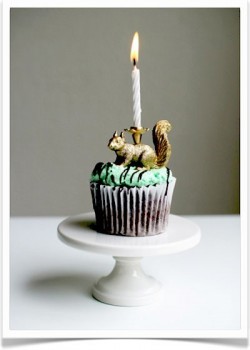 We are always up for wedding DIY at A Wedding Cake Blog.  We've explored DIY wedding cake techniques, DIY mini cakes, and DIY cupcakes.  (We are kinda all about the cake around here.)  I mean, nothing is more gratifying than when you are at your bridal sparkly beautiful best, AND someone finds out that, why, yes you DID make every single one of those cake pops yourself!
But here, we are on to another level of craftiness:  making your own candle cake toppers.  I Love love love love LOVE!  THIS!  These gilded cupcake toppers look super high-end and all kinds of Read More
0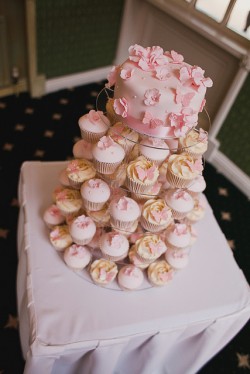 I feel like putting on my lacy gloves, Jessica McClintock hat, and heading to a tea party!
Isn't this precious?  Helen and David certainly had a lovely little cupcake tower and cutting cake to celebrate their Big Day.  I love the petal pink hue, and the fluttery Read More
0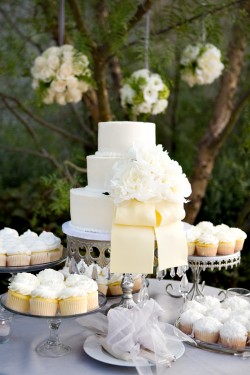 Happy…hmmm…well…let me think about it…Sunday!  Happy Sunday, Everyone!
Oh, but we have entered into that part of winter when winter is no longer enchanting.  (Well.  I assume.  I mean, I live in Florida, and I'm going to the beach today.  Hate me if you must.)  But really, I remember this time of year when I lived up north.  Christmas is over.  Spring seems far, far, far, far…  Thanks be to God for Valentine's Day, Mardi Gras, and St. Patty's, or we'd all go stark raving mad, I'm afraid.
Speaking of such things, I love all the little holidays.  Isn't it just so awesome that in life, there just always seems to be something to celebrate Read More
0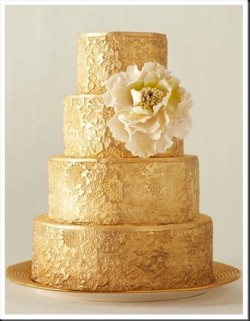 It's 2012 and it's time to start saying "that was sooo 2011″ about everything that we had to have eleven days ago but now is soo not cool.
What was hot in 2011 and (I think) is going to make a strong presence again in 2012 is gold. Gold, gold, gold. I love it. So I decided that for a little hump day treat I would feature some of my favorite gold cakes that have been clogging up my Pinterest file.
Until recently gold got a bad rap. I blame the 80's and gold lame' dresses (I had one..and matching black shoes with a gold lame' bow)  They were Sam & Libby.  Don't hate. Now Read More
0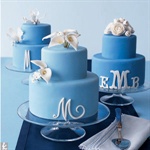 Once or twice..or who am I really kidding here..about fourteen times I've shared my love for all that is monogrammed on AWCB.
So needless to say these adorable blue mini cakes featured here on TheKnot.com.  Seriously?  If Cake Pops are the new Cupcakes Read More