Wedding Cupcakes
Cupcakes. Yum! Wedding Cupcakes. Yum and adorable! Unless you've been living under a rock, then you are aware that cupcakes became hot a few years back, and seem to be here to stay. Cupcake bakeries – cupcakeries – have sprung up coast to coast and around the world. And many are interested in pushing the cupcake envelope, creating ever more beautiful and decadent miniature cake creations, to delight fans everywhere. With the rising popularity of cupcakes, we also have seen more and more couples opting to serve cupcakes, rather than wedding cake, at their big event? Why? Couples cite different reasons. Some just really, really love the cuteness and convenience of cupcakes. Others love all of the different varieties of cupcakes out there, and appreciate that they can serve lots of variety to their guests. Still others cite cost: although the gap is closing, serving cupcakes can cost less than serving a mammoth, show-stopping cake (especially if the crafty bride DIYs the little treats.) It comes down to personal preference. For some brides, it just isn't a wedding without the big cake. For others, cupcakes may be just the special touch they're looking for.
0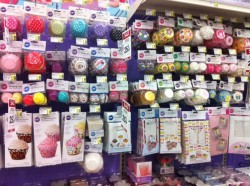 I've had this topic in my mind for months.  In fact when I began my research I wanted it to be my first feature that I did on A Wedding Cake Blog.  I am SUCH a Doing It Yourself kind of girl.  I love creating my own art for my home, making my own curtains or pillows instead of buying them.  Once I even tackled making a duvet cover (not as simple as it might seem).  I thought I would be ALL Read More
0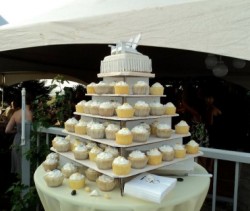 I am in love. I am in love with a group of cupcakes.
Y'all know that I'm a beachy kinda girl, n'est pas?  I mean, give me two spare hours and see if you'll catch me ANYWHERE else.  I will be under the umbrella, swimsuit on, iPod tuned to something mellow, watching the tide ebb and flow.
So it should come as no surprise that I instantly fell in love with this aDORable Read More
0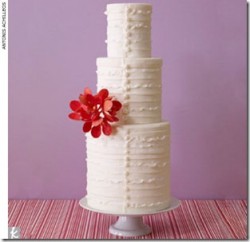 So seven months into 2011 I think it's time we talk trends baby. Cake trends that is. Because let's face it..I am always behind on clothing trends. I try so hard but oh my goodness how do I love a pony-tail and cardigans..I am so boring that way.  However, cake trends?  I think I got it.
Since I've been blogging about wedding cakes five days a week for the last seven months I have begun to take notice of the good, the awesome, and the coveted of wedding cake designs. There are lots of fun options that you can do with your wedding cake. 2011 has definitely been a wedding season of sweet, pretty, and creative. Here are just a few things that I am digging as we make our way into the last five months of 2011.
Double It Up
The Double Height Tier is probably my favorite trend this year.  It's a pretty simple concept: take a simple three-tier round cake and add height to one of the tiers.  It gives the cake height and an asymmetrical quality that takes it from a normal cake to a spectacular one.   Traditionally a cake tier is anywhere from 3-4 inches tall.  To achieve the double height the baker simply adds Read More
0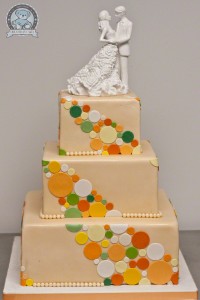 Hiya!
So…how are you keeping cool during this scorcher of a summer?  We're fanning and heading to the beach and drinking plenty of iced tea.  And while summer is scorching the rest of you, it's just plain ole' normal hot here in Florida.
But the heat hasn't stopped the deliciousness that is a summer full of weddings.  We've seen some Read More
0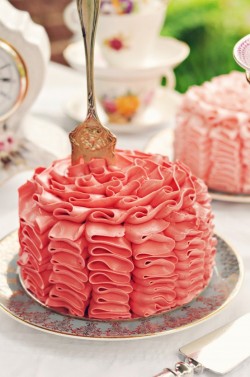 It may just be me..but ruffles are becoming my new thing.  Move over pearls and monograms..I think I have a new favorite wedding cake trend.  Sweet, perfect buttercream ruffles.
Yum.
These sweet treats were created by Rose at Sweetopolita.  Go have a look at her website and you will be hooked–everything is just Read More
0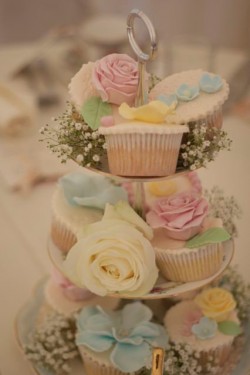 We all have our favorites, yes?  And one of my very favorite bloggers and bakers is Julie Cliff from Vintage and Cake in Derby, England.  Julie runs a wonderful little business that I MUST visit the very next time I travel to England – she hires out vintage china for special occasions, runs cupcake workshops (hello!  yes?  cupcake workshops?), and makes luscious-looking cakes that I can practically smell from across the ocean.  Everything that I see on her blog is Read More
0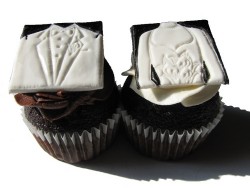 There is something about fondant that just makes everything so beautiful. Don't you agree? For years bakers have been turning out gorgeous wedding cake after wedding cake. They have been able to do such a thing because of one concrete-like material: fondant. It might not be the tastiest thing in the world…but it sure is pretty.
Now bakers are starting to take it to the next level and produce fondant covered cupcakes. Like these red velvet ones that the Read More
0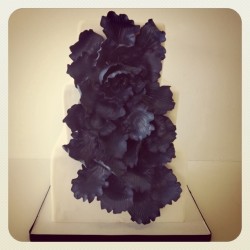 Wow oh wow oh wow – what a week!  So I don't know about you, but my fun this week included a cruise and a concert!  I need a vacation from my vacation.  While gone on the cruise, we even got to witness a wedding on the ship – with the entire wedding party dressed in white!  Now there's a persuasive bride right there.
We are officially into the swing of summer in these parts.  The kids are out of school, the pool and beach are packed, and the summer Read More