0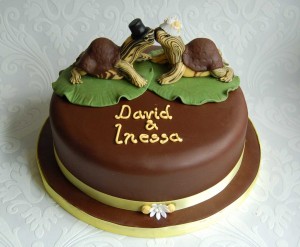 My best friend Robin and her husband dated for 10 years before they got married.
The Best Man, the Maid of Honor, and the Father of the Bride speeches all had the same theme.
FINALLY.
What's that saying? Slow and steady wins the race? True…and Robin and her husband totally are winning. As I assume the couple that inspired this cake is as well.
Made by the brand spankin' new Brighton Bakery in the United Kingdom, this wedding cake was served for a wedding with just twelve guests. It's a simple round cake covered in gorgeous chocolate fondant. Let's not forget those adorable, show-stopping bride and groom turtles (that almost look real…not at all cartoony which I really love).
Read More:
chocolate fondant
,
chocolate fondant wedding cakes
,
fondant turtles
,
round wedding cakes
,
turtle wedding cake toppers
,
turtle wedding cakes
,
turtles on wedding cakes