Chocolate Wedding Cakes
Chocolate. Say it with me. CHOCOLATE. Who doesn't love chocolate? In the U.S., most wedding cakes, until recent years, were drab, white, and practically flavorless. Just sweet and more sweet. But more and more, we're seeing different flavors, and different combinations. And not to be left out, chocolate is a flavor in the forefront. A couple may choose plain chocolate, but more often than not, we see variations on the theme – mocha, chocolate espresso, red velvet. But should a couple cling steadfast to tradition, they can always relegate the chocolate to the groom's cake. Often a foil to the white, statuesque, center-stage wedding cake, a groom's cake is often whimsical, and frequently expresses some quirky aspect of the groom's or couple's personality. Sometimes the flavors vary, but quite often, the groom's cake is – you guessed it – chocolate. Dark to the wedding cake's light. Rich to the wedding cake's austere. The perfect yin and yang, the perfect foil, the perfect complement. If your couple-heart lies in the direction of chocolate – go for it! It's your wedding, after all.
0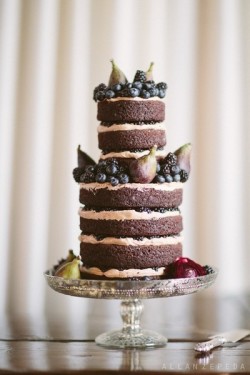 Chocolate wedding cakes are such a fun and unexpected idea, and when you make it a naked chocolate cake it takes it to another level.
Today's featured cake would be ideal for a fall or early winter wedding.
The dark hues of the cake make it perfect for cooler late-fall days, and add a bit of drama to the dessert table. Read More
0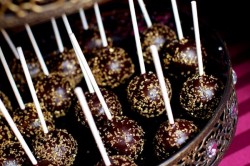 I love the idea of serving an alternative to wedding cake, especially in the summertime when it's often too hot to eat.
And, cake pops are the perfect alternative to a big and fancy wedding cake. Read More
0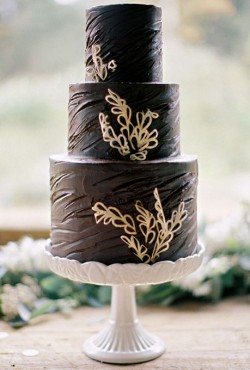 I loooove the idea of serving a chocolate cake at a wedding reception.
It's becoming THE thing to do – get away from the traditional white wedding cake and serve something a bit different.
Today's featured cake would be gorgeous any time of year, but I'd love to see it in the early spring when the temperatures are still a bit chilly. Read More
0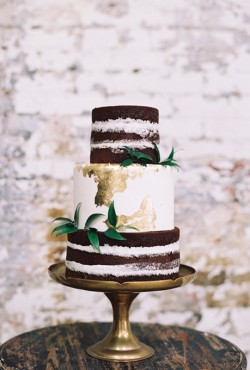 We're huge fans of chocolate cake here at A Wedding Cake Blog. We looove chocolate cake and we also love the idea of a chocolate wedding cake.
It's so fun and somewhat non-traditional to serve a chocolate wedding cake. (We're talking all chocolate, not just a tier or two).
And this nearly-naked chocolate cake with a rustic vibe is a perfect cake for your early spring wedding. Read More
0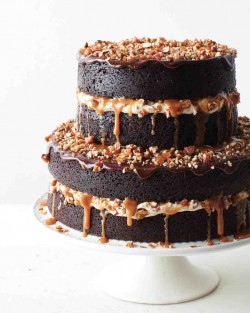 It's been a really long time since we've showcased a cake that could pass as a groom's cake.
But today we have a perfect groom's cake!
This naked chocolate stout cake would be the ideal cake for the groom. (Of course it would also work as a non-traditional wedding cake, but we really like the idea of a groom's cake). Read More
0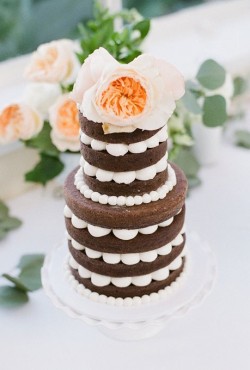 Happy New Year! As we head right into 2017, now is a perfect time to make a resolution to have a spectacular and unique wedding cake on your big day.
Take today's cake.
It's chocolate. And it's a naked cake. But look at the scalloped icing between the tiers. Good gravy that's gorgeous! Read More
0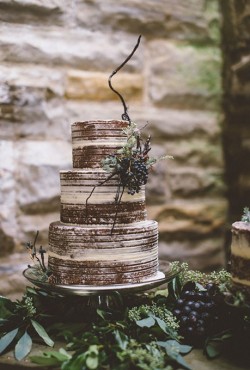 The temperature outside might be chilly, but that doesn't mean your cake needs to be covered in icing!
Today's featured cake is the perfect winter wedding cake in all its dark and dramatic glory!
I love the idea of chocolate wedding cakes – and even though I love chocolate icing, this rustic cake with minimal icing is lovely. Read More
0
I love the idea of a chocolate wedding cake.
Sure it might seem like a crazy idea – serving a chocolate cake with chocolate icing – but that's why I love it!
You can't go wrong with chocolate cake! Read More
0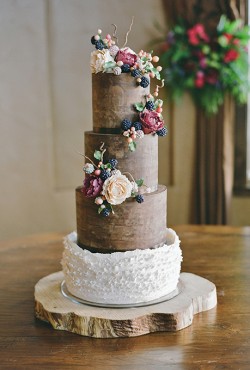 The Halloween decorations are down and now it's time to think about all things rustic and fall-like!
To celebrate the beauty that is fall, it only seems appropriate to highlight a gorgeous and rustic fall wedding cake that incorporates a lot of fall into its look.
I love the bark-like look of the top tiers of this cake – it gives the cake a nice rustic vibe without being too harsh. Read More
0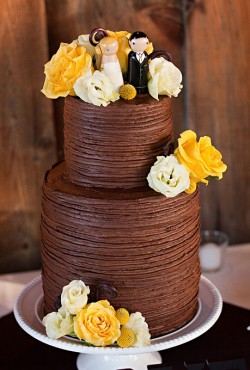 If I had the chance to do my wedding cake over, I'm pretty sure there would be chocolate involved. As in, I'd have an all chocolate wedding cake.
Because, chocolate.
I love the idea of bucking a trend – white wedding cakes – and serving something you really love. Like chocolate cake. Or at least cake with chocolate icing. Read More