Real Life Objects Cakes
The sky is the limit when it comes to cake sculpture. If you can describe it, or produce a photograph of it, then chances are your talented baker can turn it into cake. More and more, we are seeing real life objects cakes, or sculpted cakes as they are sometimes called, served in tandem with a traditional wedding cake. Normally, the sculpted cake is the groom's cake, and can be fashioned into any number of objects: a beer bottle, a football helmet, a movie theatre. Gun case with a semi-automatic nestled in the foam-made-of-cake? No problem. Crab cake that looks like a crab? Easy peasy. Caffeine addict you're baking for? Well then, why not a giant coffee cup? Sand castle? Child's play. If you can dream it, it's likely that your baker can do it. So free your mind. And your cake will follow.
0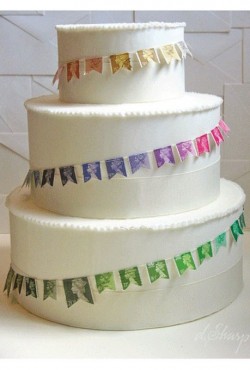 Now here's something you don't see every day. A wedding cake adorned with a rainbow of British stamps.
This cake is my new favorite cake.
First, I love stamps. As much as I love all things technology, there is something to be said for "snail mail."
I used to write to my pen pal (who just happens to live in England!) every few weeks when we were younger. I had boxes of letters, all with lovely British stamps. Read More
0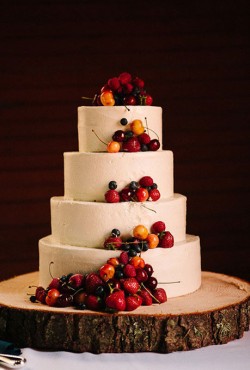 One of my favorite things about mid-to-late summer is the abundance of fresh fruit at my local market. Peaches, plums, cherries, berries, and more.
And I can't think of a better way to showcase all those gorgeous fruits than on a lovely white wedding cake!
People don't often think about using fresh fruits as an embellishment on a cake, but it really is genius. Read More
0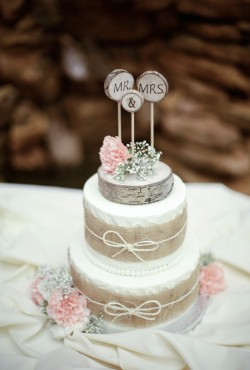 I woke up this morning to very chilly fall-like temperatures and the reality that fall really is just around the corner.
So what better time to start talking about fall wedding cake, right?
I love the idea of having a rustic fall wedding – especially if it's still warm enough outside to host an outdoor reception.
Which brings me to today's wedding cake – it's very rustic but also elegant, which isn't an easy combination to pull off. Read More
0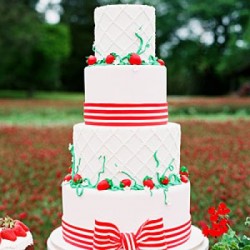 Here in the midwest it's officially strawberry season, which is rather exciting if you're a fan of the bright red sweet and juicy berries.
Me? I prefer mine with a big bowl of whipped cream and sans shortcake, but if someone was to offer me a slice of wedding cake adorned with strawberries I'm pretty sure I won't turn it down.
Especially if that strawberry wedding cake looked like this beauty! Read More
0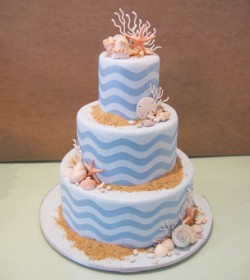 Having just returned from a week at the beach I'm still daydreaming about the sand and surf so I just had to share a beach-y wedding cake today!
And I'm loving the look of this modern beach-inspired cake.
Not only does the cake feature lovely seashells as embellishments, but will you look at those 'waves' on the icing?
It's almost too pretty to eat.
Almost. Read More
0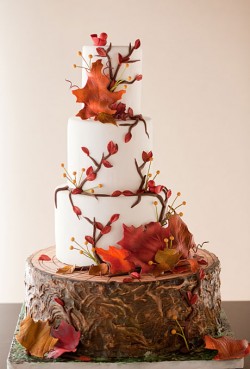 I think it's safe to say that fall is officially here.
There's a chill in the air, the leaves are changing color (at least around here), and I'm starting to see more fall decorations with a lot of orange and brown. So I figured it was a good time to feature a very fall wedding cake.
This is the perfect fall wedding cake – it has rustic colors, leaves, and even an edible tree stump as the cake's base.
The three-tier cake is iced with a beautiful white fondant that is embellished with gum paste leaves and branches in oranges, browns, reds, and greens. Read More
0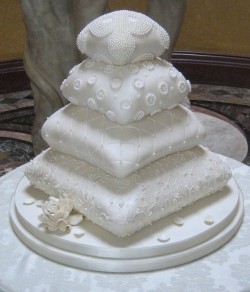 There are gorgeous, take-your-breath-away wedding cakes.
And then there's today's wedding cake which goes beyond leaving one breathless.
This cake is downright stunning.
The four-tier "novelty cushion wedding cake" is another amazing creation from our friends at Hockleys Cakes over in the United Kingdom.
The cake's intricate and delicate pattern was based on the bride's wedding dress Read More
0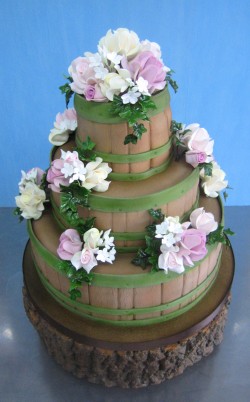 Now this is a fun wedding cake!
How often have you seen a wedding cake shaped like a barrel? Never, right?
Well now you can say that you've seen it all.
I absolutely love the charm and humor of this wedding cake from our friends at Hockleys Cakes over in the United Kingdom!
The story behind this cake is that the reception was held in a rustic, traditional English pub and the cake was created to reflect the venue. Now that's a pub I'd like to visit! Read More
0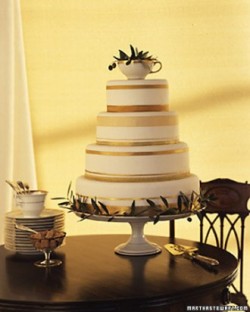 It used to be a tradition for a bride and groom to pick out a china pattern before they married.
Then, guests would purchase items from the china pattern and gift them to the new couple. I was one of those brides who registered for a china pattern. I've used it exactly once in the past 12 years.
But just because choosing a china pattern has fallen out of favor with some modern brides doesn't mean your cake can't be inspired by a china pattern. Read More