0
Posted on December 22, 2018 by Traci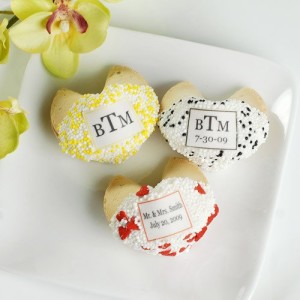 'Tis the season for fun and edible wedding favors – like these personalized fortune cookies!
Share your good fortune with friends and family and send them home with a cute box of cookies – adorned with icing, confetti, sugar crystals, and more!
Each cookie comes individually wrapped – so you can plate them up at reception tables, or box them in a Chinese take-out box!
And of course, when your guests crack open the cookie they'll find a fortune!
You can find these fun and edible cookie favors here.
Other Posts You May Enjoy:
Read More:
cookie favors
,
edible wedding favors
,
fortune cookies
,
wedding cookies
Recent Posts