Disney Wedding Cake
No one does weddings better than Disney. And when it comes to cake, the artists who craft each cake for weddings held at Disney are adept at creating magic that expresses the unique personality of each couple. Here at A Wedding Cake Blog, we've seen everything from castles and princesses to mouse ears and amusement park rides. But Disney Wedding Cakes can turn up any place, at any time. If you are a Disney fan, you don't have to have a big budget and get married at a theme park to enjoy a little pixie dust. Bakers and cake artists have access to lovely cake toppers that can transform the most plain wedding cake into a Disney dream come true, and any baker with a steady hand can pipe hidden (and not so hidden) Mickeys to your hearts' content.
0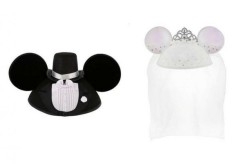 If you're newly-engaged and dreaming of a Disney World wedding, you might want to check out Disney's Fairy Tale Wedding Showcase on February 3.
This event is planned from 3-6 p.m. at Disney's Contemporary Resort at the Walt Disney World Resort.
Attendees can meet with representatives from Disney's Fairy Tale Weddings, Disney Floral and Gifts, and more.
And to add a little magic to the event, attendees can also add on one of two special events to their reservation: a Happily Ever After Dessert Party at the Contemporary or a culinary cooking adventure also at the Contemporary.
The base price for the Wedding Showcase is $45 per person. With the Dessert Party added on the price is $95 per person, and the culinary adventure add on raises the price to $250 per person.
Reservations can be made online.
And, if you're a Disney Vacation Club member you can receive a complimentary pair of Mickey or Minnie ears at the event.
0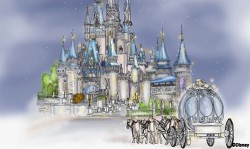 We're skipping our normal 'fun favor Friday' post to bring you some really exciting news about getting married at Walt Disney World!
Have you ever dreamed of a magical wedding at the Magic Kingdom – after the park closes?
Well, dream no more! Read More
0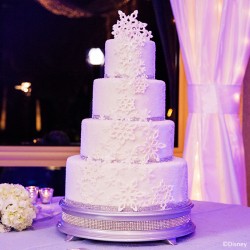 There's a blizzard outside today so I felt inspired to find a wedding cake that was inspired by snow.
I know, it would make more sense to find a beach-y wedding cake, but let's stick with the snow for today.
In my search for that perfect snowy wedding cake I stopped by Disney's Fairytale Weddings & Honeymoons site and found this stunning cake! Read More
0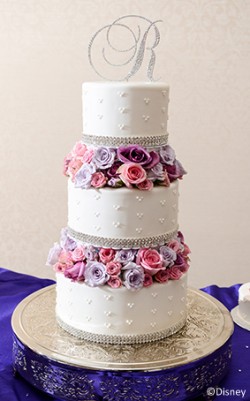 It's been a while since we featured a wedding cake from Disney's Fairytale Weddings and Honeymoons, so when I saw this cake I just had to share it!
My favorite aspect of this cake – the purple flowers. Sure there are also some pastel pink flowers in there but I am in love with the lilac roses!
I love wedding cakes with fresh flowers and when those flowers are roses I love it more. But when they're purple (and pink) roses? It's all over. I think this could be my new favorite wedding cake. Read More
0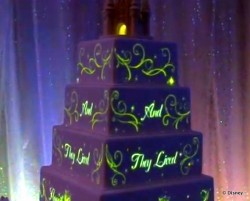 Normally I would be using this space today to showcase another fun wedding favor, but earlier this week I saw a story about the new technology being used by Disney Fairy Tale Weddings and I just had to share it with you!
Now, one doesn't usually think "technology" when talking about wedding cakes, but leave it to Disney to combine the two. Read More
0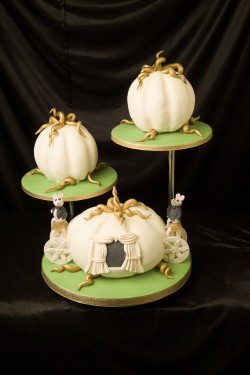 If there's ever a day when you truly feel like a princess, it's your wedding day.
So why not celebrate with a cake fit for a princess?
A cake exactly like this Pumpkin Carriage Cake from our friends at Hockley's Cakes over in the United Kingdom.
I don't know about you, but Cinderella is my favorite princess and this cake is perfect if you're thinking about a wedding with that sort of theme or if you're a fan of Disney princesses. Read More
0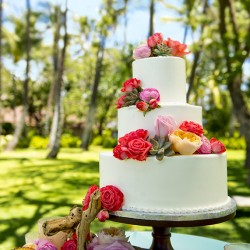 I absolutely love roses on wedding cakes.
I'm not sure if it's because I love roses or because there are so many colors and varieties and they all look stunning on a wedding cake.
But whatever the reason, if there is a cake with roses I'm going to swoon. Read More
0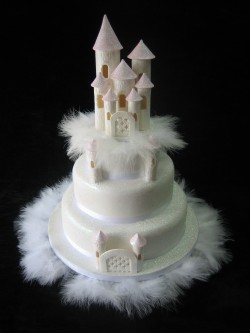 It's quite possible that this wedding cake is the most romantic cake I have ever seen.
Take a moment to look at this gorgeous creation.
Doesn't it just take your breath away?
This castle with feathers cake is another creation from our friends across the pond – Hockleys Cakes. And honestly, it might be my favorite cake of theirs to date. Read More
0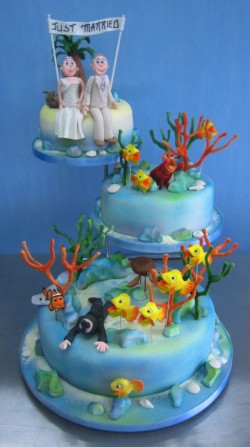 We found Nemo and he's on a wedding cake!
This amazing three-tier novelty wedding cake is a creation from Hockleys Cakes located in the United Kingdom.
They are specialists in the wedding cake biz across the pond and I am loving their designs and can't wait to feature more in the weeks to come.
But right now let's talk about this Nemo wedding cake because it's just amazing!
This novelty wedding cake features an undersea scene complete with Nemo, Crush the totally cool sea turtle, and of course the bride and groom are sitting atop the cake under a palm tree. I think I even spy Sebastian hanging out by the coral in the middle tier! Read More