Celebrity Wedding Cakes
Is there anything more fun than catching up on the wedding of your favorite celebrities? We think so, too! Who baked it? What did it taste like? What hot trend are they following – or setting? We love to check out the cakes that celebrities commission to celebrate their big day, and we think you do, too. So, let's see them – the grand, the expensive, the over-the-top, the exquisite, the cutting edge. They are all here, ready for your enjoyment! Don't see a cake from your favorite celebrity's wedding? Let us know if you have one you would like to see. We would love to feature it. After all, we love cake. The prettier, the more grand – the better!
1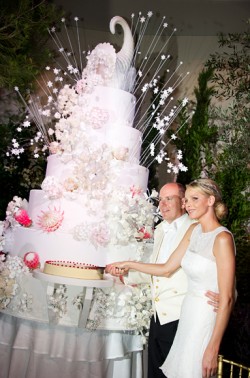 This week's installment of Flashback Friday has a royal twist to it, simply because when I saw this cake I was shocked at its sheer size and just had to share it with all of you.
Apparently when you're part of the royal family of Monaco – the second smallest country in the world at only 1.95 square kilometers in size (that's 0.75 square miles for us non-metric folk) – your wedding cake has to be enormous.
And when Prince Albert of Monaco wed his bride, the lovely Princess Charlene in July 2011 their cake was definitely the centerpiece of the reception. Read More
0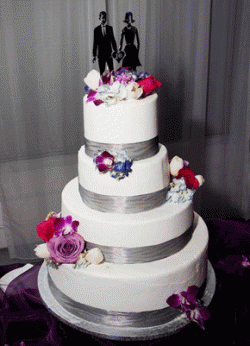 This week's Flashback Friday features another reality TV star – and while they aren't really celebrities – sometimes they do have really amazing wedding cakes.
Jesse Lenoir was a contestant on Project Runway a few years ago, and while his wedding cake is quite incredible I also have to point out that he designed the bridesmaid dresses for his wedding.
But let's talk about this cake. Read More
0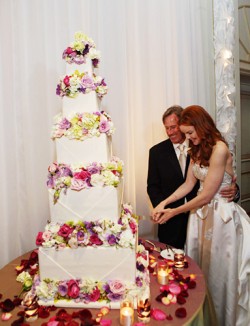 It's Friday again and that means we're heading back in time to check out another fabulous celebrity wedding cake.
This week's cake is a towering creation, but it's also very beautiful and floral.
When actress Marcia Cross (Desperate Housewives) married Tom Mahoney in 2006, she reportedly invited some friends to a cake tasting to help her choose the cake flavors. This is a genius idea, although my husband was more than happy to be part of our cake tasting. Read More
0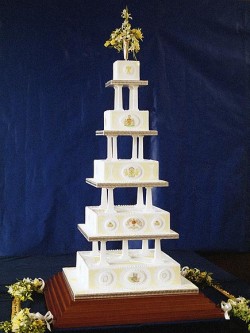 This week's flashback cake takes us all the way back to July 23, 1986 when Prince Andrew married Sarah Ferguson, who became known as Her Royal Highness The Duchess of York, Countess of Inverness, Baroness of Killyleagh, and Princess of the United Kingdom.
Or we can just call her 'Fergie' like everyone else does.
I always liked this royal couple – they seemed a bit more down to earth than Charles and Diana, sort of like an old school William and Catherine – and I was a bit sad when they divorced in 1996.
But maybe you've heard the news this week that Prince Andrew and Fergie are possibly reuniting and rekindling their romance! Read More
0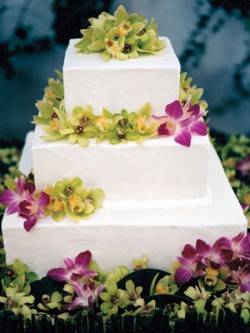 This week we're flashing back an entire decade to check out this lovely little cake from 2003.
When actress Elizabeth Banks married her beau Max Handleman at the Greystone Mansion in Beverly Hills they reportedly read love letters from their first year of dating rather than reciting vows.
Now if that isn't romantic enough, one look at their simple yet beautiful wedding cake and you know this was a spectacular affair. Read More
0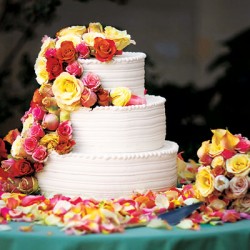 I was looking at celebrity wedding cakes this week and found so many over-the-top, 10-foot-tall creations that I just wanted something simply and pretty.
So when I saw this lovely and simple cake I knew I had to feature it.
This three-tiered cake was created for the wedding of actress Jaime King anddirector Kyle Newman in November 2007. The cake was a berry and coconut creation, with simple yet lovely white frosting. Read More
0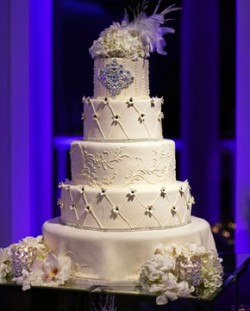 When I saw this cake I instantly adored it, probably because it evokes a little bit of The Great Gatsby vibe with the elegant cake topper and diamond brooch decoration. It's just classically beautiful and elegant.
This four-tiered cake was created for the celebrity wedding of former Survivor contestant Stephenie LaGrossa and Major League Baseball pitcher Kyle Kendrick. Their wedding took place in California in November 2010. Read More
0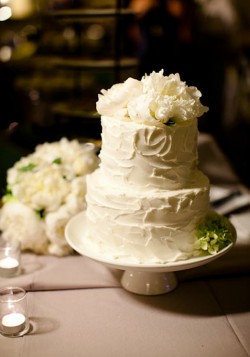 What happens when two reality TV stars get rejected on The Bachelor and The Bachelorette? They get married of course, and have a beautiful and simple wedding cake!
When I saw this cake, I admit I had to Google the "celebrities" because even though I'm a fan of ABC's The Bachelor and The Bachelorette, I didn't know who Chris Lambton and Peyton Wright were.
As it is, they were both rejected on national television and are now co-hosts of HGTV's home gardening show, Going Yard. And the happy couple was married on May 5, 2012. Read More
0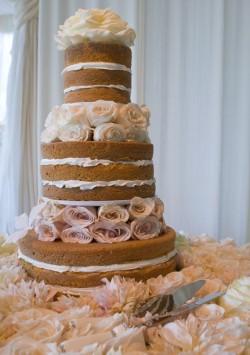 I'll be the first person to admit that frosting is the only reason I eat cake. In my opinion, there should always be a high frosting-to-cake ratio. But I'll let that rule slide this one time, because I love the look of this celebrity wedding cake.
May I present to you – the naked wedding cake.
This nearly frosting-less stunner was the cake at Hilary Duff's wedding to hockey player Mike Comrie back in 2010.
The three-tiered cake only had frosting in between the layers. The rest of the cake was "naked" – completely devoid of frosting. But I'm sure it still tasted great. Read More
0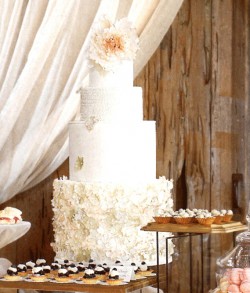 We all know that celebrity wedding cakes can sometimes be a bit over-the-top and audacious. But not this one. I love the shabby chic simpleness of Blake Lively's wedding cake, which was part of her Martha Stewart-styled wedding to Hollywood heartthrob Ryan Reynolds last year.
The cake was the centerpiece of a dessert table that was full of the couple's favorite sweet treats including mini strawberry shortcakes, lemon meringue tartlets, and s'mores bars. Read More