Themed Wedding Cakes
A themed wedding cake may be just what you're looking for to set your cake and reception apart. While a themed cake would be a natural fit for a wedding that also invokes a theme – say an "Alice in Wonderland" wedding, or a renaissance wedding – a bride and groom may also choose a theme for their cake based upon the a favorite amusement park ride or a preferred hobby, a favorite location, or a season or holiday. For the couple enjoys the daring fun of an amusement park ride, we've seen cakes that immortalize attractions like Disney's Splash Mountain – fun! Likewise, the bicycling-enthusiast couple might prefer a cake that shows a mountain bike ride. Less specific would be the couple who incorporate images and items from the ocean into a beach cake, which might include gum paste shells and star fish, sand-like or pearly finish, and maybe a sand castle topper. Finally, if your wedding takes place near a beloved holiday or season, like the Fourth of July, or autumn, or Christmas time, consider incorporating themes that echo those holidays or times of the year. A July wedding cake might be decorated with stars and sparklers, while autumn might show off colorful marzipan leaves and chocolate twigs and acorns. Christmas might inspire the use of traditional garnets and greens, or cool and snowy blues and silvers. If there is a theme that you love, consider celebrating it with your wedding cake. It will make your day even more memorable, for both you and your guests.
0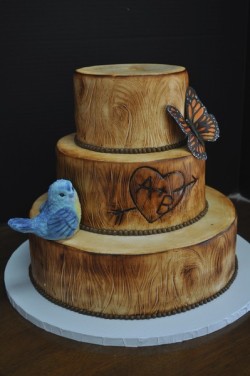 With fall right around the corner it's time to start thinking about fall-themed wedding cakes.
Today's featured cake is all about rustic themes and fall-inspired looks! The very rustic cake looks just like a weathered tree stump and it's perfect for your fall wedding!
The cake it stunning in its realistic design and even features a "carving" of the happy couple's initials. Read More
0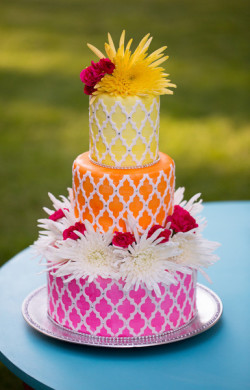 We're at that point in the summer where everything has bloomed and the flowers are bursting out of their pots and a wedding cake that is bursting with color seems just about perfect.
Take today's featured cake as an example.
This cake is all about color! You can't help but be happy and smiling when you look at this cake. Read More
0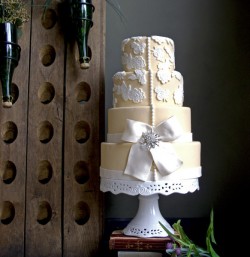 There's just something about bows. I love 'em, especially when they're used to adorn cakes.
A wedding cake with a bow has the perfect mix of elegance and whimsy that takes it to another level. A cake can never be "too formal" when it has a bow.
And if your baker can create a bow that has similarities to your wedding dress? Well, that's just about perfect. Read More
0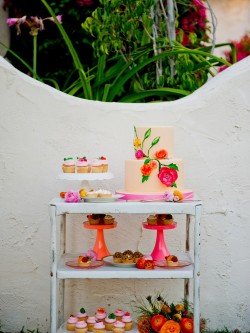 Spring has officially (finally) sprung!
The birds are chirping, the flowers are blooming, and to celebrate all things spring, it seemed appropriate to showcase a lovely floral cake today.
I love this idea of this featured cake, because it also includes gorgeous cupcakes with pretty pink frosting and flowers! Read More
0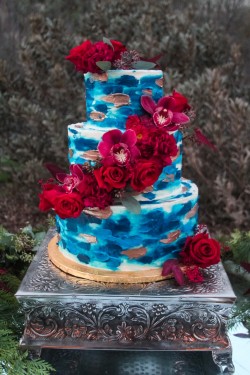 Today's featured cake is one of those "wow!" cakes. As in, I said "wow!" as soon as I saw it.
If that's not a showstopper, I don't know what is.
This cake is almost over-the-top. It's just teetering on the edge of "too much" but as a whole, it just works. Read More
0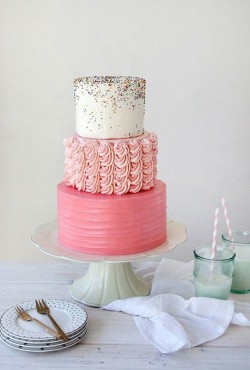 I love the idea of using sprinkles on a wedding cake, but not everyone is a fan of the tiny candies.
Which is why I love today's featured cake – it showcases one tier of sprinkles while keeping an elegant and fun vibe.
This three-tier cake might seem a bit "busy" at first glance, but it would be perfect for a spring or summer wedding. Read More
0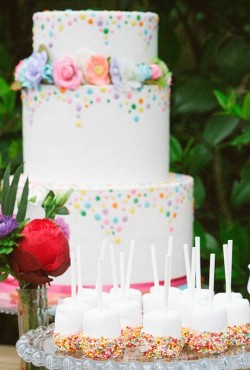 What's better than having your cake and eating it too? Having your cake AND cake pops and they're both super fun and covered in sprinkles.
Yep, today's wedding cake is a two-for-one deal. You get this lovely spring-inspired wedding cake decorated with confetti and pretty flowers and on the side, a whole bunch of cake pops covered in nonpareils (or sprinkles, as we like to call 'em). Read More
0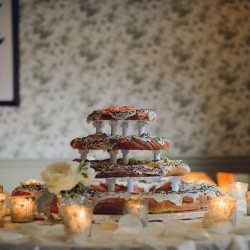 If you're looking for a non-traditional wedding cake – and you happen to enjoy celebrating Mardi Gras – this king cake is the perfect cake!
King cake is often associated with the Epiphany at the end of the Christmas season, but in New Orleans it's associated with Mardi Gras (which happens to be right around the corner!) Read More
0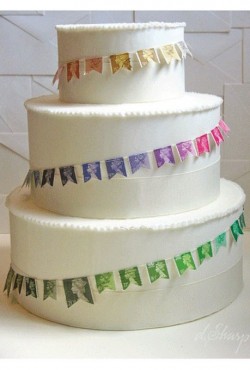 Now here's something you don't see every day. A wedding cake adorned with a rainbow of British stamps.
This cake is my new favorite cake.
First, I love stamps. As much as I love all things technology, there is something to be said for "snail mail."
I used to write to my pen pal (who just happens to live in England!) every few weeks when we were younger. I had boxes of letters, all with lovely British stamps. Read More
0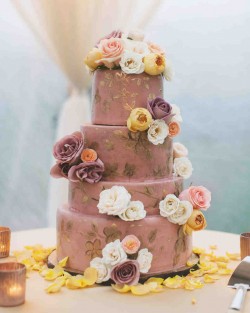 Purple is my absolute favorite color. It's the color of royalty and it's my birthstone.
And had I given it much thought, I would have added purple to my wedding color scheme all those years ago. Like, maybe by having a purple wedding cake.
Just like today's featured cake.
This lovely, muted purple cake is stunning. Read More