Modern Wedding Cakes
The term "modern wedding cake" may mean different things to different people. Here at A Wedding Cake Blog, we take the term to mean anything with a contemporary feel; a cake that eschews the traditional white on white, piped and buttercreamed and trimmed with swags or roses. Modern may refer to a bold use of color, or a contemporary decor or shape. It may also refer to choosing something other than the grand, traditional tiered cake – a cake of macarons, for instance, or an assortment of individual cakes. Modern means that you are updating the tradition: perhaps you aren't entirely throwing it out. You're just giving it a breath of fresh air.
0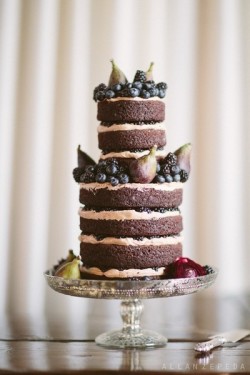 Chocolate wedding cakes are such a fun and unexpected idea, and when you make it a naked chocolate cake it takes it to another level.
Today's featured cake would be ideal for a fall or early winter wedding.
The dark hues of the cake make it perfect for cooler late-fall days, and add a bit of drama to the dessert table. Read More
0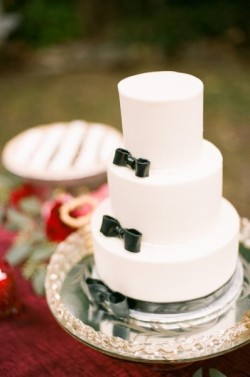 I am SO in love with this cake! The minute I saw it I thought "I need to renew my vows so I can have this cake at the reception!"
Look at it.
A simple and elegant white cake adorned with only three black bow ties.
It really is cake perfection! Read More
0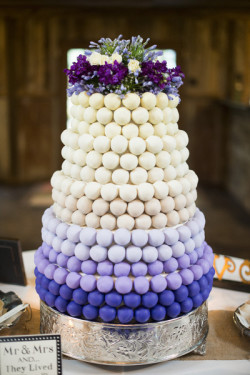 My favorite color has always been purple – I just love it!
So when I saw today's featured wedding cake – a purple ombre cake – it was cake love at first sight.
This cake is stunning on so many levels and not just because it is several shades of purple!
The overall design of the cake is so modern and elegant, it just takes your breath away. Read More
0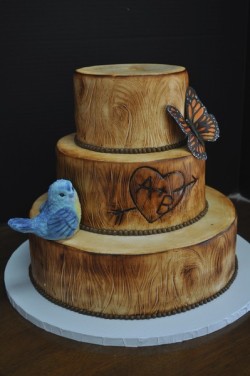 With fall right around the corner it's time to start thinking about fall-themed wedding cakes.
Today's featured cake is all about rustic themes and fall-inspired looks! The very rustic cake looks just like a weathered tree stump and it's perfect for your fall wedding!
The cake it stunning in its realistic design and even features a "carving" of the happy couple's initials. Read More
0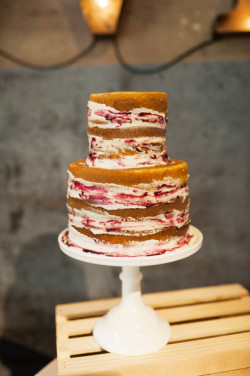 I'm starting to see fall creep into the stores this week. Pumpkin spice stuff is making a comeback. And, the leaves are starting to turn (at least where I live).
Which means it's a great time to start thinking about fall wedding cakes!
And I love today's featured cake.
This naked confection has the perfect pop of fall color and would be lovely at any fall wedding. Read More
0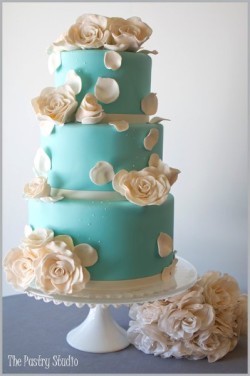 I love the idea of colorful wedding cakes and one of the best colors is blue!
There are so many shades of blue that would look great on a cake, but this pretty turquoise blue is one of my favorites.
Today's cake is decorated in a hue that reminds me of the sea around some of my favorite Caribbean islands. Read More
0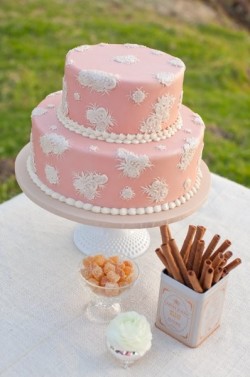 I love the idea of small-ish wedding cakes that pack a lot of punch – cakes just like today's featured cake.
This two-tier vintage-inspired wedding cake would be perfect for a smaller wedding or if you're planning a dessert table at your reception.
I'm loving the pink icing on this cake and the addition of floral lace-inspired designs gives the cake a gorgeous retro look. Read More
0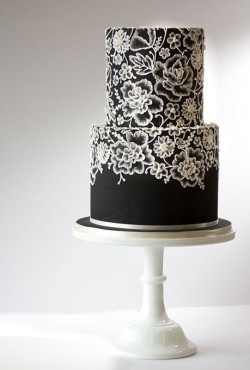 There's something so elegant about a black and white wedding cake.
Black wedding cakes are a modern trend and one that demands a formal setting.
Add in a white lace design on the cake and you've got a stunning wedding cake.
Today's featured cake would be perfect at a late summer, fall, or winter wedding. Read More
0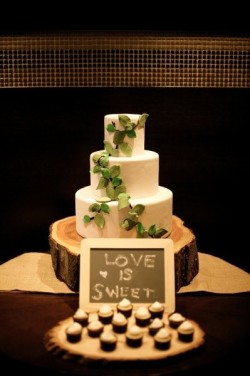 It's getting close to that time of year again….autumn!
OK sure, it might still be hot and summer-like where you live but before we know it the leaves will be changing and pumpkin spice everything will be back on the shelves!
So today seems like a good day to think about a fall-inspired wedding cake. Read More