Square Wedding Cakes
Square wedding cakes have gained in popularity over the last few years. While they still trail their round counterparts significantly, they are the second most popular shape that cakes take in today's wedding cake world. The couple who chooses a square cake may have a myriad of reasons for doing so. Maybe they just want something a little different. Or maybe a particular design feature that they have chosen works better with a square cake, such as a monogram. Perhaps the couple (or the bride, or the wedding planner or caterer) has a lovely old cake stand to feature, and it just so happens to be square in shape. Whatever reason, square cakes, whether separated by columns, or stacked with tiers directly on top of one another, emphasize the couple's attention to detail. Round cakes are the default; square cakes must be requested, and for that reason, seem just a little more special.
0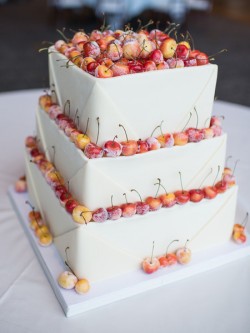 Summer is unofficially here! This means it's time for fresh fruit and gorgeous wedding cakes – sometimes mixed together.
Today's featured cake is the ideal summer wedding cake – a gorgeous white cake topped with sugar dipped cherries!
This cake is both elegant and whimsical. Take a look at the icing – it looks like envelopes on the side, folded over. Read More
0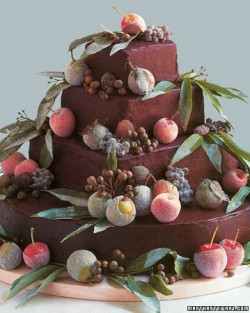 Once again we're talking about chocolate! I can't help myself – with all the Halloween candy at the stores my brain immediately thinks "chocolate."
I think chocolate cakes are perfect for fall and winter weddings – they're dark and decadent and seem to fit in with the colors and themes at this time of the year.
A chocolate cake in the summer would just be too much. But in the fall, when it's cold and blustery outside, it's perfect. Read More
0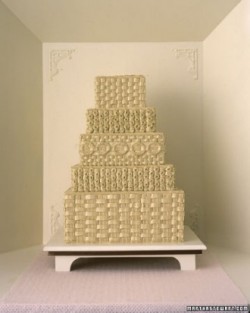 It sure feels like fall today so that got me thinking about all things fall, like trips to the apple orchard. And baskets full of apples.
Which brings me to today's wedding cake inspired by baskets.
I really like this five-tier cake for several reasons, including the fact that the icing color is rather non-traditional. It isn't often that you see a mocha-hued wedding cake. Read More
0
I love the beach. Specifically I love how the color of the ocean can change throughout a day from dark blue to greenish-blue and back again.
This wedding cake reminds me of my favorite ocean color – that sea green-blue when the water is clear and you can see to the bottom.
The three-tier cake features square cakes adorned with simple white icing and seafoam green Necco candy wafers. Read More
0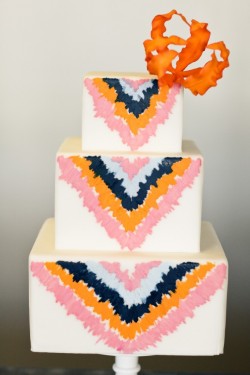 There is nothing simple or old fashioned about this modern and very colorful wedding cake.
And I think I kinda like that.
Sure, I'm normally a traditionalist when it comes to wedding cakes but there's something unique about this cake.
In order for this cake to "work" at your reception you'll need to have a modern color scheme and a modern vibe to the reception. Read More
0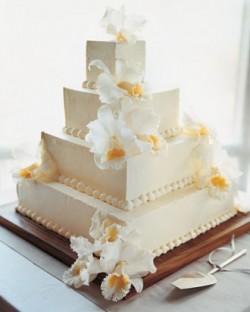 Things are still all a bloom around here thanks to a nice combination of April showers and warm, sunny days.
Which means I'm still looking for wedding cakes adorned with fresh flowers because they're absolutely perfect for spring weddings.
This four-tier square wedding cake is elegant and simple and has a fresh feel about it.
The square tiers give the cake a modern feel, while the pearl icing embellishments add just the right amount of elegance.
And you can't go wrong with fresh cattleyas for a floral addition.
Of course if you aren't a fan of that flower you can always adorn your cake with a flower that matches your bouquet – giving your wedding cake an extra personal touch.
You can find this spring floral wedding cake here.
0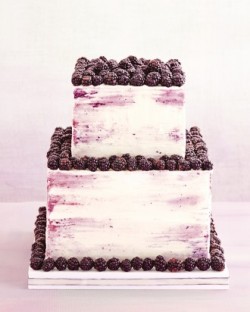 I've recently decided that I need to eat more fruit and fresh berries are currently on the top of my list of must-have snacks.
So, when I saw today's wedding cake I just knew I had to share it with you because it looks delicious and it would be perfect for a spring or summer wedding.
This two-tier blackberry wedding cake is absolutely stunning thanks to the blackberries surrounding each tier. Read More
0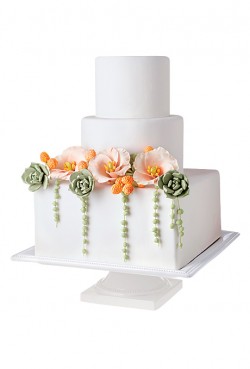 It's the first day of April and spring is in the air and that's no joke!
As I look outside I'm spying buds on the trees and tulips popping out of the ground and I'm convinced that the warmer weather is here to stay.
Which means I just had to find a gorgeous wedding cake today with springtime flowers!
This cake is that perfect springtime confection. Read More
0
Tomorrow we'll all be celebrating St. Patrick's Day and the wearing o' the green, so today seemed like a good day to showcase a cake with little green shamrocks!
This lovely three-tier cake is iced with gorgeous rolled fondant which is decorated with sugar paste four leaf clovers. Read More