Unconventional Wedding Cakes
In today's wedding world, it seems that most wedding cakes are unconventional. It's almost unconventional to have a white on white wedding cake! But in an unconventional wedding cake might refer to the design, the topper, or the flavors featured. Regarding design, one popular unconventional style today is the topsy turvy, asymmetrical design. Stacked cake layers give the illusion that the cake could spill over any minute, when in fact, the cake is balanced and level. Unconventional toppers are another way that a couple may make their cake unique. The couple who loves Angry Birds, for instance, can feature the adorable characters perched atop their cake. Can't last a minute without your cell phone? There's a wedding topper for that, too. Prefer Goth to Victorian? No problem. A talented baker can help you realize your dream cake. But you might opt for traditional design and toppers, and still find ways to be unconventional with flavors – even savory alternatives to wedding cakes, like "cakes" made of wheels of cheese, or layers of savory meet pies, might stand in for a conventional cake. So, express yourselves! In cake! And send us pictures.
0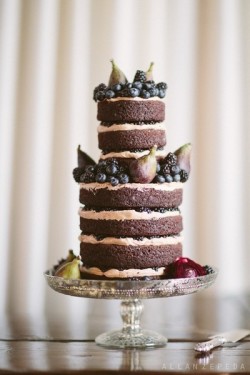 Chocolate wedding cakes are such a fun and unexpected idea, and when you make it a naked chocolate cake it takes it to another level.
Today's featured cake would be ideal for a fall or early winter wedding.
The dark hues of the cake make it perfect for cooler late-fall days, and add a bit of drama to the dessert table. Read More
0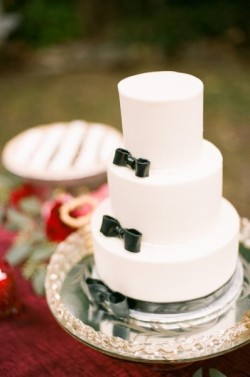 I am SO in love with this cake! The minute I saw it I thought "I need to renew my vows so I can have this cake at the reception!"
Look at it.
A simple and elegant white cake adorned with only three black bow ties.
It really is cake perfection! Read More
0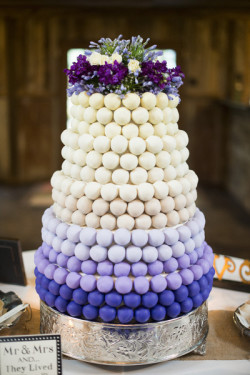 My favorite color has always been purple – I just love it!
So when I saw today's featured wedding cake – a purple ombre cake – it was cake love at first sight.
This cake is stunning on so many levels and not just because it is several shades of purple!
The overall design of the cake is so modern and elegant, it just takes your breath away. Read More
0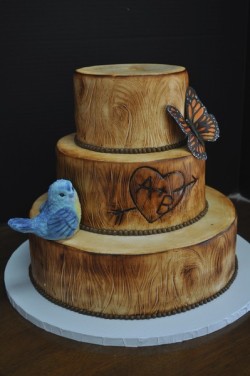 With fall right around the corner it's time to start thinking about fall-themed wedding cakes.
Today's featured cake is all about rustic themes and fall-inspired looks! The very rustic cake looks just like a weathered tree stump and it's perfect for your fall wedding!
The cake it stunning in its realistic design and even features a "carving" of the happy couple's initials. Read More
0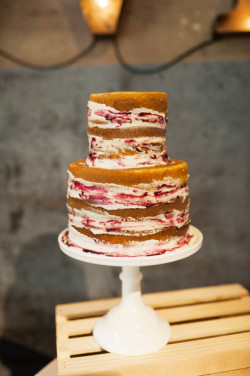 I'm starting to see fall creep into the stores this week. Pumpkin spice stuff is making a comeback. And, the leaves are starting to turn (at least where I live).
Which means it's a great time to start thinking about fall wedding cakes!
And I love today's featured cake.
This naked confection has the perfect pop of fall color and would be lovely at any fall wedding. Read More
0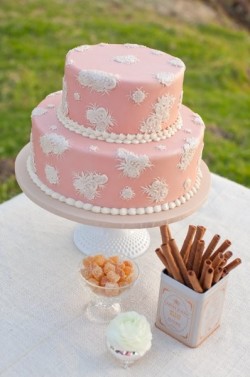 I love the idea of small-ish wedding cakes that pack a lot of punch – cakes just like today's featured cake.
This two-tier vintage-inspired wedding cake would be perfect for a smaller wedding or if you're planning a dessert table at your reception.
I'm loving the pink icing on this cake and the addition of floral lace-inspired designs gives the cake a gorgeous retro look. Read More
0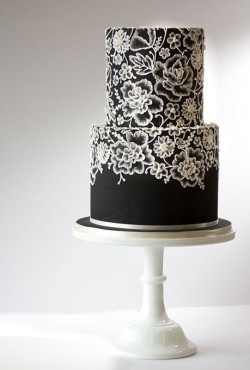 There's something so elegant about a black and white wedding cake.
Black wedding cakes are a modern trend and one that demands a formal setting.
Add in a white lace design on the cake and you've got a stunning wedding cake.
Today's featured cake would be perfect at a late summer, fall, or winter wedding. Read More
0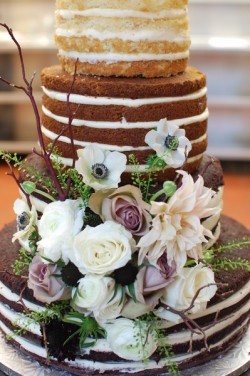 Let's face it – it's hot outside. And while I'm normally a fan of LOTS of icing on wedding cakes, in the summer I think the "naked" wedding cake trend is perfect.
And today's featured cake is soooo pretty it doesn't need much icing at all.
This four-tier cake features cakes of different flavors – looks like chocolate and vanilla – with gorgeous white icing between the layers. Read More
0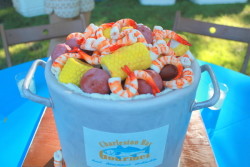 I love the idea of a groom's cake – a fun and delicious dessert that reflects your groom's personality or is inspired by his hobbies.
And yes, every time I think about a groom's cake I'm reminded of the red velvet armadillo cake with gray icing from the 80s hit movie Steel Magnolias.

However, today we're talking about a visually pleasing, fun groom's cake! Read More