0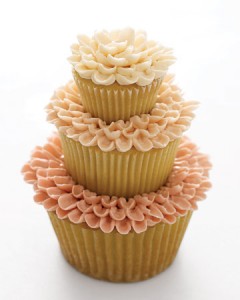 I have a friend who ADORES cupcakes.  No.  You don't even understand.  Like, she's making a living (in part) reporting on cupcakes in a certain corner of the world…and people love her!  (Well.  She is pretty lovable.)
Anyhoo…said friend…let's call her Bea…eloped, and didn't have a wedding cake.  She and hubby love exactly how they did things, and couldn't have been happier with the arrangement.  Still, I have a feeling that when she gets a load of this three-tiered cupcake, there's gonna be some retro wedding cake reenactment celebration stuff going on.
Because, seriously.  It's three tiers. On a cupcake.  Omistars, y'all!
Okeey…so logistically, this would be a nightmare.  Buttercream overload, and I, for one, am such a klutz that I would no doubt topple it over on the new dress I just bought to wear to this function. But in my fantasy life, this is just…wedding cupcake perfection.  'Cause everybody gets their own TIERS.  And nobody has to share.
Once again, we have the brilliant staff at Martha Stewart to thank for this inspiration.  Are you inspired, indeed, to do this?  'Cause if so, I TOTALLY wanna see the pics. (And click on the link in the Source for the recipe and the DIY directions.)
Read More:
martha stewart cupcakes
,
martha stewart weddings
,
stacked cupcakes
,
tiered cupcakes