0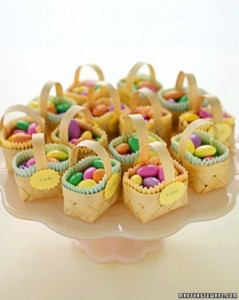 If there's one wedding favor that I absolutely love it's Jordan Almonds. They're sweet and crunchy and I can never eat just one or two.
And since we're getting closer to Easter basket season when we fill cute baskets full of sweet goodies, I couldn't resist sharing these super cute mini baskets.
You can find mini baskets like these at most craft stores, and we even found some cute woven baskets here. I love the idea of lining the baskets with colorful paper liners (think cupcake liners).
You could use liners that work with your color palette or go with colors that celebrate the season (spring or summer).
And then fill the baskets with Jordan Almonds, which are the perfect spring or summer wedding favor. The candies come in so many different colors but I'm a big fan of the pastel colored almonds, especially for a spring wedding.
If you're feeling really ambitious, you could even make labels for the baskets that note the wedding date or maybe include your new monogram.
This is a simple yet lovely DIY wedding favor and your guests will love the sweet treats!
You can find the almond basket favors – including some DIY ideas – here.
Read More:
candy wedding favors
,
DIY wedding favors
,
fun wedding favors
,
jordan almonds
,
mini basket favors
,
spring wedding favors
,
summer wedding favors
,
wedding candy