1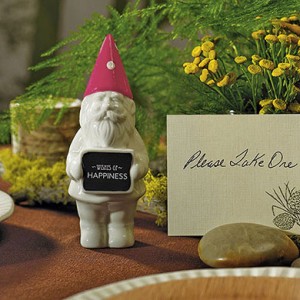 What is the last thing you'd think of when deciding on the perfect wedding favor for your guests?
Miniature garden gnomes, of course.
And yet, they really do exist and since I found them on my never-ending search for the most whimsical wedding favors around, I just had to share them with you!
Wedding favors really don't get much cuter than this. The miniature gnome stands a mere 5 inches tall and he's wearing a very cute fuchsia hat that is decorated with a white polka dot. He's holding a small sign that reads "Wishes of Happiness" which is perfect for your happy day.
If you'd like his sign to include a different message the sticker can be personalized.
This is definitely a wedding favor your guests are going to love.
You can order these adorable miniature gnomes here.
Read More:
fun wedding favors
,
garden gnome favors
,
mini gnomes
,
spring wedding favors
,
wedding favors