0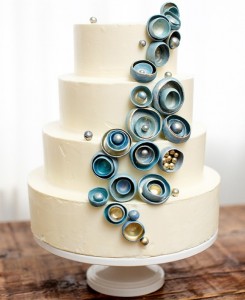 As winter continues its relentless grip on most of the country I have decided it's time to dream about summer and beach weddings.
Which brings me to today's nautical, beach-inspired wedding cake.
Don't you feel warmer just looking at this cake? I can almost imagine the beach wedding, right on the sand, with the sun shining down.
OK, enough daydreaming. Back to this cake.
I love the simple four layer white cake – it is the perfect base for any sort of design and these blue and gold seashell shapes are perfect. They look like a cross between shells and underwater bubbles.
This cake would be so pretty at your beach wedding – even if you're just having a beach-themed wedding in the middle of the winter! It's fun and whimsical while still being elegant and modern.
We found this nautical wedding cake here.
Read More:
beach wedding cakes
,
beach weddings
,
seashell wedding cakes
,
summer weddings