0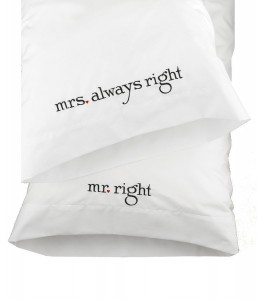 So, I'm not feeling cake today.  Is that okay with you?
What I AM feeling…is a little sassy.  I figure with eleven years of marriage behind me (just marked that anniversary), I thought I'd have some fun today.
And, of course, I mean this as fun.  I don't necessarily think that I am always right (even if it DOES happen with alarming regularity.)
But just in case you are looking for a fun wedding gift for a cute couple in your circle, well, here you go.
Find these adorable Mr. Right & Mrs. Always Right pillowcases on Amazon.
You're welcome.
Read More:
funny wedding gifts
,
newlywed gag gifts
,
newlywed linens
,
newlywed pillowcases