0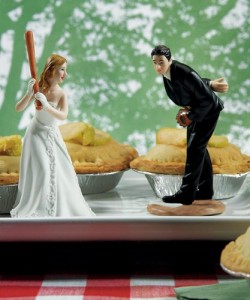 As American as Mom, Baseball, and Apple Pie! Going into the week during which we celebrate the 4th of July, I am lovin' this adorable cake topper, featuring the groom on the pitcher's mound and the bride at bat.  'Cause I totally think the couple that plays together stays together.
Can't you just see this on a summertime wedding cake?  For that couple that we all know where they are BOTH jocks?  Awesomeness.  And I'm loving that they're still dressed in their wedding finery, although I bet you doughnuts to dollars that if we could peek beneath her ceramic dress, we'd find out she had kicked off her shoes a while ago.
If you LOVE this cake topper and just squealed "OMGOSH I HAFTA HAVE THAT!!!" – the good news is, you TOTALLY can.  Click here, and make it happen, Honey.  And mark one to do off that mile long list.
Read More:
baseball cake toppers
,
Bride and Groom Cake Toppers
,
humorous cake toppers
,
sports themed cake toppers