0
Posted on June 25, 2013 by Traci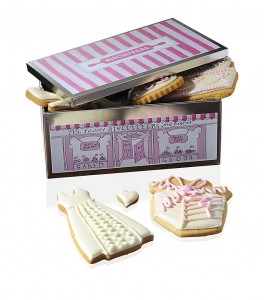 With so many weddings and bridal showers to attend you sometimes run out of cute and creative gift ideas. Sure there's always the old standby – a gift card or money. But I'm pretty sure these super cute Wedding Biscuits would be a gift no one would quickly forget. They would also make cute gifts to give to the bridal party. I'd take cookies over just about anything on any given day!
The cookies – or biscuits as they're called across the pond – are handmade and hand-iced vanilla cookies in designs such as a three-tiered cake, flowers, shoes, and wrapped presents. The cookies are sent in a Biscuiteers pink and white striped wedding tin which is almost as cute as the biscuits. Almost.
And yes, they can be shipped to the U.S.! I wouldn't be sharing them with you if you had to fly to England to buy 'em. Take note though, to ship to the U.S. takes six-10 working days so don't wait until the last minute to order these wedding-themed biscuits.
Other Posts You May Enjoy:
Read More:
Biscuiteers cookies
,
edible wedding favors
,
handmake wedding gifts
,
special wedding gifts
,
unique wedding favors
,
wedding cookies
Recent Posts