0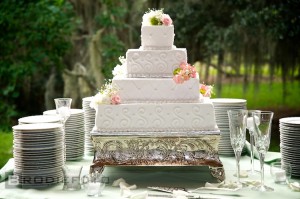 I want you to picture in your mind the most gorgeous summer wedding you can imagine. Now picture in your head the most gorgeous cake to go along with the most gorgeous summer wedding.
Did you picture this cake? Because I sure did! This cake actually belongs to my friend Kristen and her husband Ricky. They were married last June and this cake is just gorgeous. I love that from far away it's a classic cake..but when you get closer you notice that it has a lot of personality..just like Kristen! You guys know that I am a fan of mixing square and round tiers and I love the alternating design on the layers. Topping it off with light pink and white roses..brilliant! I've been seeing a huge trend with the silver cake stands & I have seen some cakes where the stand seems too overwhelming but on this cake it is perfect. And surrounding it with fine china service..well that makes for a beautiful stunning picture.
This cake was baked by Patrick Blankenship of Bluffton, SC.  Fun fact, he an executive chef & just bakes cakes on occasion.  I am not sure what kind of chef he is but he seems like an awesome baker to me!  The photo was taken by Matt Brodie of Brodiefoto in Columbia, SC.
Read More:
brodiefoto
,
patrick blakenship
,
round and square wedding cakes
,
round wedding cakes
,
square wedding cakes