0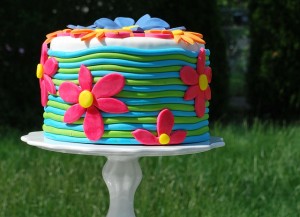 It's September 22nd..and guess what? I'm done with you summer. I'm done with the heat, the miserable heat. Although, I must add I will take the vacation back though. Anyway, as my goodbye to summer I thought I'd share this cute little summer cake in order to make room for all the fall I am going to be throwing in your face.
I mean seriously. Check it out. This is a sweet simple little cake with alternating green and blue fondant stripes and pink, orange and blue summer flowers. I have to say I love how original this cake is. In all of my almost 300 posts here on A Wedding Cake Blog (AWCB if you are into acronyms) I have never seen piped fondant.
So what do you think? I am ready for apple crisps, football weather, and cardigans. How about you? Or are you one of those people who longs for summer? And what about piped fondant? Do you love it or does it make you all stabby and want to smooth things out?
Read More:
bright colored wedding cake
,
fondant flowers
,
piped fondant
,
piped fondant wedding cake
,
summer wedding cake