0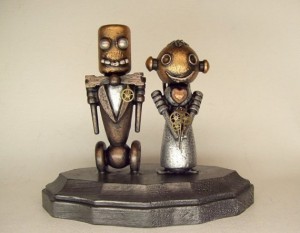 Domo arigato Mr. Roboto.  Thank you very much oh Mr. Roboto for bringing me this cake topper when I needed it.
Yes!  Robot Cake Toppers!  I've got to admit…I've making an effort to step outside of the box on Cake Topper Friday and I am loving what I am finding.  Because in all honesty a girl can only feature a monogrammed cake topper a few times before it becomes…well…boring.
These adorable love robots?  Far from boring!  They are made by Pete at The Builder's Studio and you can check out his Etsy shop.  These adorable love-bots are about 3 1/2 inches high and I can totally picture this topper on a traditional white round fondant cake.  It would be such a great way to add a little bit of fun and quirkiness to your wedding.  You don't even have to be a robot nerd to find these little guys adorable.
Oh but guess what?
Secret, secret..I've got a secret!  It could possibly be that I've been listening to too much Styx..but it's not.  It's that these love-bots are made almost entirely out of wood and hand painted.  Amazing yes?  I seriously thought they were metal and Pete was some sort of amazing welder.  Not the case my friends.  They are hand painted and can be customized to your specifications if you'd like something a little different.  He also has a wide variety of other love-bot wedding cake toppers including a Tin Man and Bride from Wizard of Oz which is kind of amazing.  And they both have hearts..I love it!
Oh by the way, I'm Kilroy! Kilroy! Kilroy!Who is Kilroy?  Well..you'd have to ask Mr. Roboto about that because I have no clue.  With that..my bad robot jokes are over.
Visit the Builders Studio by clicking here!
Read More:
etsy cake toppers
,
handmade wedding cake toppers
,
robot cake toppers
,
robot wedding cake toppers
,
tin man wedding cake toppers
,
wizard of oz cake toppers
,
wizard of oz wedding cake toppers
,
wooden cake toppers