0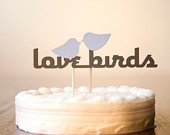 I have a slight obsession with birds. And so when I saw this cake topper on Pinterest I was in love!
I'm not so much in love with "traditional cake toppers" of the bride and groom, but more and more lately I have been discovering all of the different alternatives that are now available. Today's featured cake topper can be found on Etsy and is an adorable option! The design is sweet and simple. It doesn't take too much away from a cake but it is also noticeable. It would be the perfect topper for a simple cake and would surely sweeten up your wedding day!
For more love bird cake ideas check out this recent post!
Read More:
bird cake toppers
,
graphic cake toppers
,
love birds cake toppers
,
silhouette cake toppers