0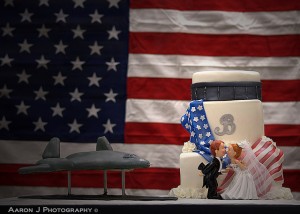 Happy July 4th to my fellow Americans! If you are not American..well..then Happy Monday!
Let's start this 4th of July off right with a little bit of patriotism..in the form of edible baked goods.
It may surprise you to know that I did not go digging for this cake. I was looking for something theme-y but did not think that I would be able to find a wedding cake that was classy and patriotic. My friends it can be done..as seen here. This couple took a traditional round cake and gave it a little American flare by draping a fondant American flag around the cake. What is that to the left you ask? Well I do believe it is some sort of edible jet fighter plane. All set in front of an American flag backdrop. My friends–you cannot get more patriotic than that. What I like about this cake is that it isn't all "I'M AMERICAN AND I'M HERE EAT ME". This is pretty much the general perception of Americans right? We are loud in your face and eat too much? Well this cake offers a little bit of sweetness by adding a monogram on the cake and placing an adorable kissing bride and groom topper in front of the cake.
What we have here is a case of classy patriotism. Yup, I just made that up..look for it on urbandictionary.com tomorrow.
So, Happy Birthday America. I think you're pretty rad.
What is your favorite 4th of July tradition? Lighting sparklers, cooking hamburgers on the grill and watching our neighbors but on a fireworks show that would make the pyrotechnics at Disney World jealous are mine. My least favorite tradition? Going to the emergency room. Which we have done every year for the past two years. I will be staying in my house on lock down this 4th of July to avoid the curse.
If you are looking for my usual Monday long post–come back tomorrow and check out the skinny on the Groom's Cake. I felt we should honor America today.
Read More:
america wedding cakes
,
american flag wedding cakes
,
american wedding cakes
,
Blue Wedding Cakes
,
july 4th wedding cakes
,
military wedding cakes
,
patriotic wedding cakes
,
red wedding cakes