Blue Wedding Cakes

The color blue is so intrinsic to a wedding that there's even a rhyme about it for brides (who often resort to rhymes to remember the eight gajillion details they're juggling, since no one thinks getting married is a viable reason for a leave of absence from work.)
Where was I?
Oh yes.
"Something old, something new, something borrowed, something blue."
Now, what self-respecting bride takes a trip down that aisle without her something blue? But, for the bride who would like to kick up the color factor a little, without rocking the tradition boat too awfully hard, a blue cake may be just the thing.
Whether it's sky blue, the softest baby blue, or Tiffany Blue, or even electric blue, this cool color is becoming increasingly popular in wedding cake palettes, particularly as an accent hue. We're seeing satin ribbons around the base of cakes to incorporate that touch of blue, but gum paste flowers on willowy branches also make a startling statement. And paired as part of a hot color combination, with, say, black zebra stripes, or bold, graphic browns, the demure color can take a front row seat in the trendiest of receptions.
See Also:
0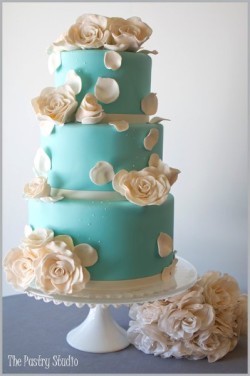 I love the idea of colorful wedding cakes and one of the best colors is blue!
There are so many shades of blue that would look great on a cake, but this pretty turquoise blue is one of my favorites.
Today's cake is decorated in a hue that reminds me of the sea around some of my favorite Caribbean islands. Read More
0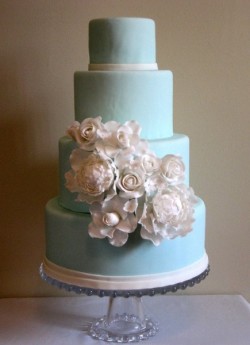 In these warm summer months I love looking for colorful wedding cakes that add a lovely pop of color to your dessert table.
Today's cake is a perfect shade of blue for summer – it looks like the sea or the sky.
And, it's also the color of a particular very popular jeweler. We all love getting boxes in this color, right! ;-D Read More
0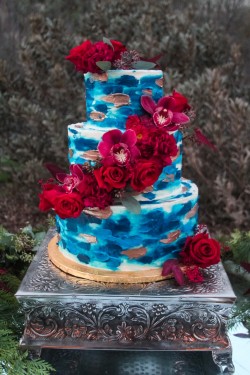 Today's featured cake is one of those "wow!" cakes. As in, I said "wow!" as soon as I saw it.
If that's not a showstopper, I don't know what is.
This cake is almost over-the-top. It's just teetering on the edge of "too much" but as a whole, it just works. Read More
0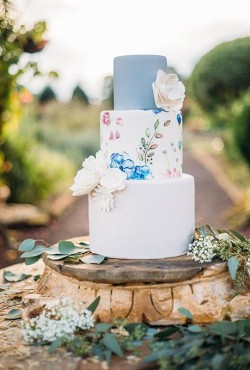 We're just a couple weeks away from the official start of spring so of course we're thinking about all the lovely spring flowers that will soon be blooming!
Today's cake reminds us of all things spring thanks to the lovely painted flowers on the middle tier and the use of sugar flowers.
This three-tier cake is stunning – the combination of blue and white on a wedding cake is a favorite here at A Wedding Cake Blog. Read More
0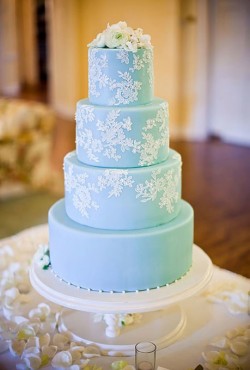 If there's one color I love to see on a wedding cake it is blue – specifically a light blue that was made famous by a particular jewelry company.
Today's featured cake is that lovely shade of blue and the addition of a lace overlay piped onto the cake takes it to the next level for sure.
This cake is elegant and classic and it could also fill the role of "something blue" at the wedding. Read More
0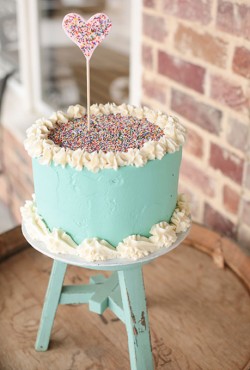 I love the idea of having a small wedding cake for the newlyweds but giving the rest of the guests a chance to enjoy a dessert bar full of sweet treats.
And if you're going to go with that plan, you should consider having a fun wedding cake – something like today's featured cake!
I love this one-tier wedding cake with the gorgeous Tiffany-blue icing and whimsical sprinkles on top. Read More
0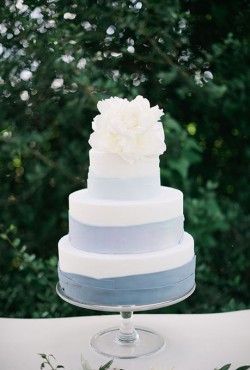 Today is the second day of March, which means we are daydreaming about springtime and flowers and warmer weather.
However, it is also currently snowing outside so we are also thinking about snow and ice and cold – all the wintry things that look like the colors of this cake.
We love this gorgeous cake. The three tiers each feature a different shade of blue and it gives it an elegant ombre look. Read More
0
I love the beach. Specifically I love how the color of the ocean can change throughout a day from dark blue to greenish-blue and back again.
This wedding cake reminds me of my favorite ocean color – that sea green-blue when the water is clear and you can see to the bottom.
The three-tier cake features square cakes adorned with simple white icing and seafoam green Necco candy wafers. Read More
0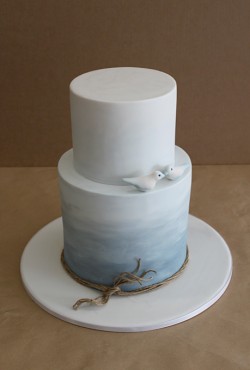 It's Shark Week this week on Discovery Channel. Which means I'm thinking about the beach and how it's probably best to stay ON the beach and out of the water.
So, instead of swimming in the ocean let's look at this lovely wedding cake that was inspired by the waves in the Big Blue!
I always wanted a beach wedding and this cake would be perfect for your beach wedding. Heck it would be perfect at your winter wedding if you had a beach theme! Read More
0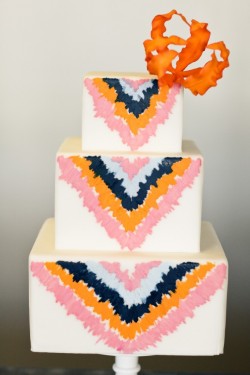 There is nothing simple or old fashioned about this modern and very colorful wedding cake.
And I think I kinda like that.
Sure, I'm normally a traditionalist when it comes to wedding cakes but there's something unique about this cake.
In order for this cake to "work" at your reception you'll need to have a modern color scheme and a modern vibe to the reception. Read More