1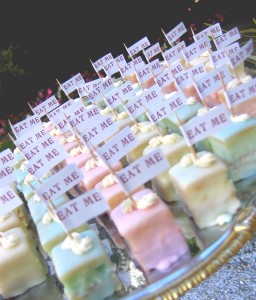 Alice in Wonderland-themed weddings have hit an all-time high this year.
No seriously, I'm not kidding. I've seen high-end themed weddings that would BLOW your minds and homespun adorable themed weddings that are just, well, adorable. Much like these petit fours. Down south we just call these "cake squares" but a petit four can actually be a small macaroon, cake or a baked meringue. I love how these petit fours are actually covered in sweet pastel colors like pink, cream, and green, and have a small "Eat Me" flag straight from the movie. These would be perfect for a spring or summer afternoon wedding. Or perhaps even a bridal shower tea party.
What do you think? Do you like petit fours or do you just call them cake squares like me? Have you been to an Alice in Wonderland themed wedding? What did you think?
Read More:
alice in wonderland
,
alice in wonderland petit fours
,
alice in wonderland themed weddings
,
cake squares
,
petit fours
,
petit fours at weddings
,
tea party weddings
,
wedding petit fours