0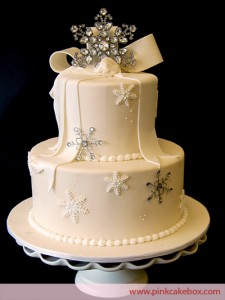 Early this week I featured this Holly Cake from The Pink Cake Box and I promised there would be more treats from The Pink Cake Box during CCW11!
I told you about a dream I had once.  For a winter wedding that included a white horse drawn carriage, (faux) fur muffs and shaw, and white gloves up to my elbows.  The problem with this dream December wedding?  South Carolina can be a little persnickety with the whole winter weather situation.  Like today.  It's 76 degrees.  Last Christmas it snowed.
Anyway, had I gotten to make my winter wonderland dream a reality, this would have been my cake.  In fact in my dream I think this WAS my cake.  The four tiers are covered in an ivory fondant and decorated with fondant and crystal snowflakes.  It is heavenly…and I haven't even told you about the innards yet.  The top tier is a peanut butter and chocolate cake followed by vanilla and chocolate and vanilla and hazelnut on the following tiers.  Yum.  You can check out more about this particular cake by clicking here and if you need some more holiday themed cake inspiration check out The Pink Cake Box Winter Cake Gallery.  Gor-jus!!!
I won't see you again until after the holiday so my girl Brooke is going to continue with another gorgeous Christmas Cake and I am sure a holiday-filled round up!  So I am wishing all of you a very Merry Christmas, Happy Hanukkah or just a blessed day from my home to yours.
Read More:
christmas weddings
,
crystal cakes
,
crystal wedding cakes
,
snowflake cakes
,
snowflake wedding cakes
,
the pink cake box
,
white wedding cakes
,
winter cakes
,
winter themed cakes
,
winter weddings