0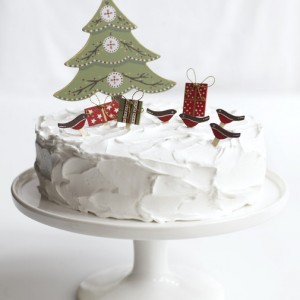 Next week I have a big fat week of Christmas-themed cakes planned for you. I mean I could just post regular old wedding cakes–but then I wouldn't really be in the spirit would I?
In order to gear up for Christen's Christmas-avaganza 2011 I thought we'd start here with this cute cake topper. This is a Scandanavian-style wood cake topper, featuring a beautiful Christmas tree, complete with presents and robins. Love. It. Especially the robins. It's vintage and trendy and would be great for a Christmas-themed wedding or shower. I always wanted my wedding to be around Christmas, since the church was always decorated so beautifully. Apparently a lot of people had that idea and the church was booked about 2 years in advance every December. Oh well. Maybe my next marriage. Ha.
Lucky for you…you can buy these cute vintage cake toppers here.
Read More:
british cake toppers
,
christmas cake topper
,
christmas cake toppers
,
christmas presents
,
christmas tree
,
christmas wedding cake toppers
,
vintage style cake toppers
,
wedding cake toppers