0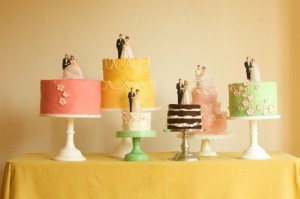 Um, why didn't this occur to any of us ever before?
With the rising popularity of multiple wedding cakes and sweets tables, well, why not multiple bride and groom sets?
I thought this idea was so cute as soon as I laid eyes on it.  I mean, c'mon, I cannot be the only girl here who grew up looking at her grandparents' wedding cake topper, right?  I would think this idea of using multiple vintage bride and groom sets would be pretty easy to pull together with some family help (grandparents, aunts and uncles could lend theirs to you) or by visiting tag sales and antique stores.  You could even do a variation on the theme, and have different bride and groom sets depict your different likes (a couple here golfing, a couple there with their favorite sports mascot.)  Ah!  The possibilities are endless!
Read More:
Bride and Groom Cake Toppers
,
multiple cake toppers
,
multiple small wedding cakes
,
multiple wedding cakes
,
Sweets Tables
,
vintage cake toppers