0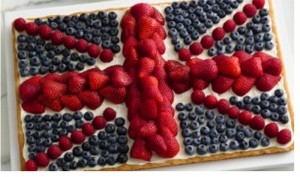 So…maybe it's a little "backyard barbecue" – or whatever the equivalent is Across the Pond – but I thought this cake was pretty darn adorable.
I think that it was technically created to fete the Duke and Duchess of Cambridge on their special day last year, but I just fell in love with it.  Wouldn't the Union Jack, made out of summer-fresh berries, be the perfect way to celebrate your Main Squeeze on your own Wedding Day?  If he's a lover of all things British, a few things British, or IS, in fact, British, I think this would be pretty cool.  And if your guy is a Yank, then just change up the design!
I spied this cake originally on Pinterest, but traced the trail back to Simply Savannah Events.
Do you love the idea of fruit-as-flag motif?  Leave us a comment below!
Read More:
flag groom's cakes
,
fruit groom's cakes
,
homemade grooms cakes
,
summer grooms cakes
,
union jack grooms cakes