0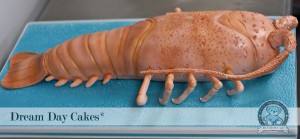 So, last week, we showed you the adorable "He's Her Lobster" groom's cake, created by the ab fab Jenniffer of Cup a Dee Cakes in Georgia.  We were thrilled then to hear from our good friends at Dream Day Cakes right here in the Sunshine State with a Florida original on the lobster theme:  a Spiny Lobster Groom's Cake!
Now, if you aren't a Floridian, you might not even know about the "other" lobster.  Our guys don't come with those ferocious, huge claws, but they're pretty delicious nevertheless!  And in homage to Florida fishing, Yeni at Dream Day Cakes created this wonderful replica of a spiny lobster.
If this post induces cravings for delicious cake, then check out our other Dream Day Cake features, like this adorable Gator Cake Topper, and this incredible Hand-Painted Lovebirds Wedding Cake, or the Gainesville bakery's beautiful website and baker's blog! If the pic sends you into spiny lobster wantonness, know that the season was terrific in the Keys this past year, and your next opportunity for bagging the delicious critters will be August 6 through March 2013.

Read More:
fishing grooms cakes
,
florida bakers
,
florida grooms cakes
,
lobster cakes
,
lobster themed cakes
,
lobster wedding cakes