0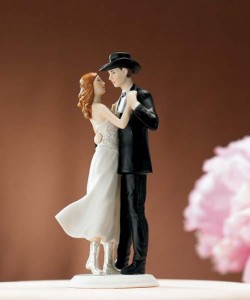 Are you marrying a cowboy?  Then you most certainly need this sweet western waltz cake topper.
Sure, being romanced by a cowboy is something right out of a Harlequin novel in my world.  But it happens!  I see a lot of lovely wedding pics from all kinds of places in my line of work, and some of the most moving are the ones that feature big ole hats on the fellas and beautiful boots under those demure skirts.
Wouldn't this cake topper be lovely for a wedding with a western flair?  Whether you're actually celebrating in Texas Hill Country, or you just wish you were, it would be so lovely.  I'm thinking outside, wide open spaces, lemonade in mason jars, checkered tablecloths.  And a fiddle.  To be sure. (Because if you're gonna play in Texas, you've gotta have a fiddle in the band.)
If your dream guy is a cowboy and this is the cake topper of your dreams, you are in luck.  Because you can totally get one here.
Happy Trails 😉
Read More:
Bride and Groom Cake Toppers
,
cowboy cake toppers
,
cute cake toppers
,
funny cake toppers
,
western cake toppers