0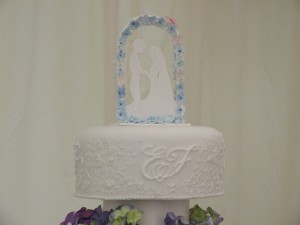 Isn't this darling?  I mean, the epitome of sweet, yes?
I'm not a big fan of Precious Moments figurines, y'all.  I wasn't when they were hot.  And that was a LOOOOOONG time ago.  However, I don't mind the cute, pastel vibe that they evoke.  And even though this cake topper has nothing to do with Precious Moments, or even echo their look, it kind of reminds me of that feeling.  Soft.  Sweet.  Pastel.  It makes me think of wholesomeness and high school sweethearts.
It could certainly be changed up – made out of a different color, or it could feature different flowers.  But I kinda like it just the way it is.
What do you think?  Do you like this sweet silhouette cake topper?  Or do you prefer something bolder?  Leave us a comment below.
Read More:
arch cake toppers
,
blue cake toppers
,
cute cake toppers
,
floral cake toppers
,
monogram cakes
,
periwinkle cake toppers
,
silhouette cake toppers
,
sweet cake toppers