0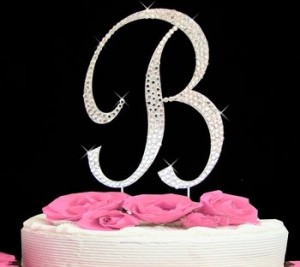 If you like bling as much as the next girl (and your future hubby doesn't care one way or the other), then this is the cake topper for YOU.
Mixing a little flash with the oh-so-traditional monogram, this look is both classic and modern at once. And since both shiny things and initials are kinda "in" right now, you'll be considered hip, too! (I love when hip and classic meet. It's like all is right with the world.)
If you are dreaming of this lovely cake topper for your wedding cake, no worries — you can get it right here.
So cross #14,356 off your list. And focus on #14,357.
You're welcome.
Read More:
bling cake toppers
,
bling wedding cakes
,
initial cake toppers
,
monogram cake toppers
,
rhinestone cake toppers
,
shiny cake toppers
,
swarovski cake toppers