0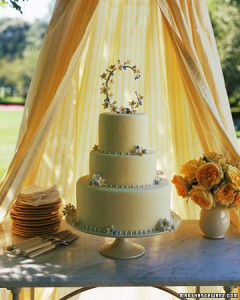 We're seeing lots and lots of monograms of late in connection with weddings…and I, for one, am not complaining.  I love, love monograms (which, if you knew me, would not surprise you in the least.)
Lately, though, most of the monograms have been in the form of a placard on the side of the cake – a classic detail that I fall in love with all over again everytime I see it.  Another option – the swooshy rhinestone jobby on the top of the cake.  Sparkles and pretty.  Perfection.
But – ever in search of something new and just a little different – I stumbled upon this beauty this evening, courtesy of Martha Stewart.  Atop this sweet cake – perfect to celebrate an end-of-summer wedding – sits the monogram of the newly married couple, done up in what almost appears to be field flowers woven to a willowy frame.  No rhinestones.  No paint on fondant.  No fancy shmancy.  Just pretty.
The flowers, which are actually hand-painted sugar paste, are also randomly placed around the three-tiered cake.  We think it's just lovely. 
What are your thoughts?  How do you like your monogram – nice and tailored?  Shiny and sparkly?  Or homespun and sweet?  Leave a comment and share your opinion.
Read More:
end of summer wedding cakes
,
floral wedding cake toppers
,
garden party wedding cakes
,
sugar paste flowers
,
summer wedding cakes